January 15, 2019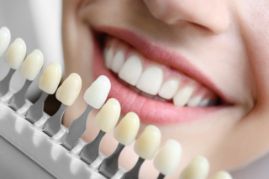 If you think that teeth whitening is a new development in human history, the truth will surprise you. The ancient Egyptians viewed white teeth as a sign of wealth and beauty and were known to use things like pumice and wine vinegar to brighten their smiles. And the ancient Romans used the even less appealing method of swishing with urine! Fortunately for us, teeth whitening in Deland has come a long way since then. But you may still be wondering if it's safe for your teeth and what kind of options you have. Keep reading to find out more!
Is Whitening Safe?
Professional whitening has been rigorously tested and is absolutely safe for your oral health. These treatments contain ingredients that strengthen the enamel and benefit the overall health of the teeth, and you have the added benefit of being monitored by a dentist.
Having said that, whitening can create temporary side effects. Some people don't experience these issues at all, while others do:
Temperature sensitivity – Whitening temporarily causes the "pores" of the teeth to open, which allows things like hot, cold, or acidic foods to stimulate the nerve. However, modern professional treatments now include ingredients to prevent this, so it doesn't happen as often. Also, a dentist can give you a prescription-grade fluoride toothpaste that's incredibly effective at reducing sensitivity and will prevent cavities at the same time.
Gum irritation – If it comes into contact with the soft tissues in your mouth such as your gums, whitening gel can cause mild irritation and discomfort. This can be avoided by either getting an in-office treatment (where a professional applies the gel) or by closely following the instructions your dentist gives you for home use. If this irritation does occur, you can simply postpone whitening for a day or two while it heals.
What Are Your Whitening Options?
The FDA limits the strength of over-the-counter whitening products, so if you want results that are both safe and reliable, a professional option from a dentist in Deland is your best bet.
There are two main choices:
Take-Home Trays – This option is more gradual and involves wearing custom-made trays filled with whitening gel for 30-60 minutes a day. Most patients get their final results in 10-14 days.
Zoom! In-Office Whitening – This procedure gives fast, dramatic results in about one hour, so it's perfect for any patient who wants to get their results immediately.
With one of these whitening procedures, you can safely brighten your smile by 6-10 shades. If only the ancient Romans were so lucky!
About the Author
As a general and cosmetic dentist in Deland, Dr. Christopher Cowell knows how much a beautiful smile can enhance someone's life. Since whitening isn't a one-size-fits-all approach, so he offers both Zoom! in-office whitening and take-home trays so there's an option for everyone. If you'd like a brighter smile and have any other questions, he can be contacted via his website.
Comments Off

on Is Teeth Whitening in Deland Safe – and What Are Your Options?
No Comments
No comments yet.
RSS feed for comments on this post.
Sorry, the comment form is closed at this time.