Porcelain Veneers – DeLand, FL
Transforming Your Smile with Beauty and Care
Do you have a smile that you're self-conscious to flash in public? Or, maybe you even avoid photos because of the flaws in your grin? Thankfully, we have a solution that can transform your smile into the set of teeth you've always dreamed of. Dr. Christopher Cowell is experienced in providing patients with beautiful porcelain veneers in DeLand, FL to enhance one tooth, multiple teeth, or even their whole smile. Keep reading to find out if porcelain veneers are right for you.
What are Porcelain Veneers?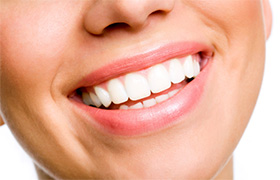 Porcelain veneers are extra-thin shells of dental porcelain that are designed to cover the front surfaces of your teeth. They are bonded to your teeth to instantly conceal a wide-range of dental flaws. Dr. Cowell, an expert dentist in DeLand, can match your porcelain veneers to be the exact size, shape, and color of your natural smile. While the process does take 2 visits, porcelain veneers are the fastest way to correct imperfections in your smile like:
Cosmetic chips or cracks
Misshapen teeth
Small gaps
Slightly crooked teeth
Permanent stains or discoloration
The Benefits of Porcelain Veneers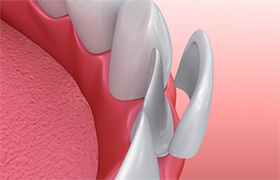 Porcelain veneers come with many benefits, but here are the most popular advantages that patients enjoy:
A way to correct varying imperfections all at once
Dental porcelain is stain-resistant, making it much harder to discolor your new smile
Lasts for years to come with proper care
A more confident, youthful, and healthy appearance
Easy oral healthcare and maintenance
The Process of Receiving Porcelain Veneers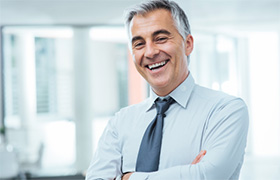 The porcelain veneer process occurs over 2 dental visits. First, Dr. Cowell will discuss with you your desired results, and then he will remove a slight portion of your dental structure to make room for your veneers. Then, he will take impressions of your smile, which are used to create your custom-made porcelain veneers. While you wait about 2 weeks for your permanent veneers to be made, you'll be given temporary ones to maintain your smile's appearance.
Once your veneers are made, you'll come in to visit our dental office for the second time, where Dr. Cowell will ensure that you're happy with your results. After you have given your approval, he will bond your permanent veneers to your teeth to create a beautiful and lasting transformation.
Understanding the Cost of Porcelain Veneers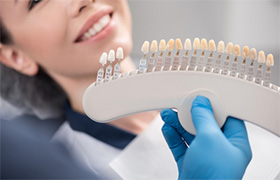 The cost of your porcelain veneers will vary based on many factors, but the main variables are the number of veneers you will need and the state of your oral health. The only way to get a fair and precise estimate is to visit our dental office for a consultation. Dr. Cowell will give your smile an in-depth examination and develop a personalized treatment plan based on your mouth. Once this is done, we can give you a more exact price for your porcelain veneers.
Porcelain Veneers Frequently Asked Questions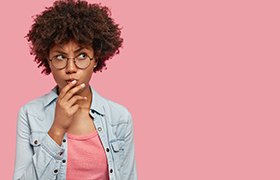 Are you ready to transform your dental imperfections into a smile you can't wait to show off with porcelain veneers in DeLand? It's natural to have a few questions, so we've gathered some common inquiries about this popular cosmetic service below. If you don't see the answers you're looking for, don't hesitate to give us a call and we'll be happy to help!
Are Porcelain Veneers Permanent?
To ensure your porcelain veneers don't look bulky or unnatural once they're placed, a thin layer of enamel needs to be removed. However, enamel doesn't naturally repair itself over time. This part of your tooth will always be slightly more vulnerable than it was before, and it should always be protected with a porcelain veneer to prevent damage or decay. Thankfully, you should never have to remove your porcelain veneer and expose your tooth unless you're having it replaced with a new one.
Does It Hurt to Get Porcelain Veneers?
While enamel removal may sound daunting, when performed by a seasoned professional like Dr. Cowell, it's typically quick and painless. We'll apply a local anesthetic to numb the area, so you shouldn't feel any discomfort as we prepare your tooth and take impressions. For a few days after your tooth has been prepared, it's natural to experience a slight amount of tooth sensitivity. This short-lived sensation should be easily managed with over-the-counter pain relievers if necessary.
How Many Porcelain Veneers Do I Need?
Each porcelain veneer is custom-made, so you could choose to enhance the look of a single tooth if you like. However, we recommend getting veneers in pairs, either on your front two, four, six, or eight teeth, for the most seamless results. During your initial consultation, Dr. Cowell will review your smile goals and help you determine how many porcelain veneers are needed to achieve the results you're looking for.
Can Anyone Get Porcelain Veneers?
While porcelain veneers can improve nearly anyone's smile, some patients may need to complete preliminary treatments first. Before moving ahead with your porcelain veneers, we'll carefully inspect your mouth for oral health issues that could potentially threaten their success. After we've addressed problems like tooth decay, gum disease, and teeth grinding, you'll be ready for your brand-new smile!
Will My Dental Insurance Cover My Porcelain Veneers?
Every dental insurance policy is different. To see if yours covers the cost of porcelain veneers, you can call your insurance provider or simply bring your insurance policy paperwork with you to your consultation. We'll review your policy details with you to help maximize your benefits. Unfortunately, most dental insurance policies don't cover the cost of cosmetic treatments like porcelain veneers. However, we'll be happy to help you apply for financing through CareCredit. This third-party service can break up the cost of your treatment into manageable payments to make getting your new smile as affordable as possible!