Dental Implant-Retained Dentures – Deland, FL
Restore Your Whole Smile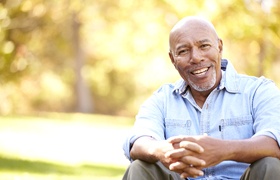 One missing tooth can make eating and speaking more difficult, but when the entire arch is gone, such simple everyday tasks can become next to impossible, and you'll find yourself significantly limited in your everyday life. Obviously, tooth replacement is a must to protect your overall well-being. While traditional dentures only replace the most visible parts of the tooth, Dr. Cowell wants you to be able to enjoy the highest quality smile possible, which is why he may recommend dental implant-retained dentures in DeLand, FL that look and function like natural teeth. Call today to schedule your dental implant consultation.
Why Choose Christopher J. Cowell, DMD for Dental Implant-Retained Dentures?
Team That Works Alongside Local Implant Specialists
State of the Art Dental Technology for Planning
Affordable Treatments with Flexible Financing
What are Dental Implant-Retained Dentures?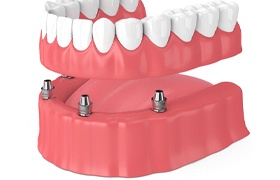 Dentures are made out of a gum-colored base and natural-looking false teeth. They can be anchored to the jawbone using anywhere from three to six dental implant posts. Because the implants can act as new tooth roots, implant dentures are the next best thing to getting your natural teeth back. There are actually two major kinds of implant dentures that you can choose from: those that are permanently fixed in place and those that are removable.
Fixed/Permanent Dental Implant-Retained Dentures
This type of denture can only be removed by your implant dentist in DeLand for examinations and oral health purposes. Otherwise, it will stay in your mouth 24/7. For this type of denture, 4 to 6 implant posts are normally required, and you need to have a certain level of bone density to ensure that your jaw can provide an adequate level of support.
Removable Dental Implant-Retained Dentures
Also called snap-on dentures, this type of restoration can be removed whenever you want. You'll normally do so in order to clean underneath it and brush your gums. About 2 to 5 implant posts are required to support a removable implant denture; fewer posts mean less bone density is usually required.
The Dental Implant-Retained Denture Procedure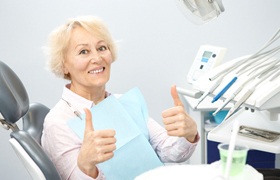 The first step is to prepare the mouth as necessary, which might involve removing badly decayed teeth or restoring the jaw with a bone graft. Then we will refer you out to a local oral surgeon for implant placement. This team-based approach means that you'll have an expert you can trust to help you during each step of the implant process. After the implants are in place, they will be covered with protective caps while the mouth heals. The posts will eventually fuse with the jawbone, and abutments will be attached to them. Our dental office will handle the design of the final denture, and we'll attach it to your implant posts during a last appointment.
Am I a Candidate for Dental Implant-Retained Dentures?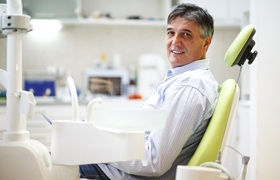 To get implant dentures, you should ideally possess the following traits:
Most or all of the teeth in your upper or lower arch are gone or need to be extracted
You're in good health overall
You have good oral health or are able to undergo preliminary treatments to eliminate existing issues
You are able to commit to a length implant placement process
You can maintain good oral health after implant surgery
Benefits of Combining Dentures & Dental Implants
Even though implant dentures require a significant investment of time and money, the cost is balanced out by benefits such as:
Improved oral health
Jawbone preservation
Improved confidence
Enhanced quality of life
The ability to eat your favorite foods again
Improved bite force and chewing power
Durable implant posts that can last 30 years or longer