Dental Crowns – DeLand, FL
Natural-Looking Tooth Restorations
If you have a tooth that isn't as strong as it could be, whether from decay or damage, it can use a little reinforcement. That's where a dental crown comes in. This dental prosthetic provides your tooth with a strong top portion that not only performs daily tasks, such as chewing and help with articulating in speech, but also gives your teeth a natural, healthy look. Our dental office is proud to offer dental crowns to our DeLand, FL dentistry patients and bring a satisfied smile to their faces.
Uses and Benefits of a Dental Crown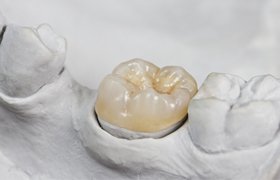 Because it completely covers a tooth or implant, a dental crown can be used in so many situations. As a result, it has many potential benefits, including the following:
Saving a natural tooth.
Giving your tooth's function and strength back.
Masking any discoloration of the tooth.
Repairing a decayed tooth that doesn't have enough healthy structure for filling.
Fixing a damaged or cracked tooth from an injury.
Enhancing the appearance and strength of a small or misshapen tooth.
Holding a weakened tooth together.
Attaching to a dental implant.
Getting a Dental Crown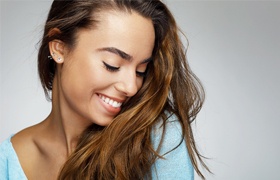 When Dr. Cowell identifies a situation where you need a dental crown, he will recommend this treatment to you. Then, the process for placing it goes as follows:
Cowell will either remove the decayed portions of your tooth or prepare it for the crown.
We will take impressions of your mouth and create a custom design for your crown to ensure that it fits properly and looks great.
We will send this information to a dental lab, where your crown will be crafted.
Before you leave, we will affix a temporary crown.
When the final product is ready, you'll return to our dental office so that Dr. Cowell can bond your crown in place.
In just two simple appointments, you could enjoy your smile again!
Cost of a Dental Crown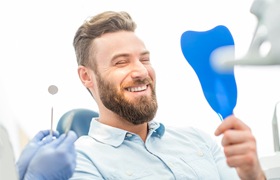 In many situations, your dental insurance covers part of the cost for your dental crown. How much coverage you get will greatly depend on your insurance plan. However, you can rely on our team to walk you through the process and help you understand the costs associated with getting your dental crown. With the proper care of brushing and flossing daily and visiting our dental office for checkups and cleanings twice a year, your dental crown can last and serve you well for many years. Getting your smile back to full health and appearance will be worth the time, money, and effort.
So regardless of the situation, if you need a dental crown, Dr. Cowell and our team can provide the compassionate, expert care you need to restore your tooth. Come experience the difference with our DeLand dental office by scheduling an appointment with us today!
Dental Crown FAQs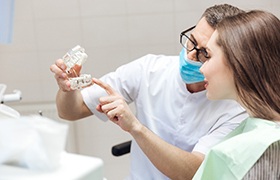 Are you preparing for dental crowns in DeLand? If so, you likely have many questions. The process of receiving a customized restoration can evoke some sense of uncertainty if you're unaware of what to expect. This is why Dr. Cowell and our team are here to provide the answers to some of the most common questions asked by our patients. If you do not see yours listed below, please feel free to call our office to discuss this topic further.
Are dental crowns permanent?
Dental crowns are not permanent restorations. Unfortunately, they are not designed to last forever and do require replacement over time. Typically, an average dental crown can last 10-15 years, depending on how well you take care of your smile. When meeting with Dr. Cowell to discuss your custom restoration, he will go through the process with you, making you aware that once a tooth requires a dental crown, it must be maintained for the remainder of your life. The reason is that the natural tooth must be altered to ensure proper placement of the restoration.
To ensure that you get the most life expectancy out of your crown, make sure to follow the instructions provided to you by our team.
Do dental crowns get cavities?
You'll be pleased to learn that dental crowns cannot decay over time; however, if you neglect your oral hygiene routine, there is a chance that bacteria can enter and attack the underlying tooth, resulting in decay. Taking care of your dental crown is essential, as you don't want the seal to break and allow harmful particles to invade. Should you notice any problems with your restoration or feel discomfort, don't wait to call our office.
Are dental crowns safe for an MRI?
Dr. Cowell uses porcelain dental crowns, which are known to be safe should you need an MRI. However, if you have a porcelain-fused-to-metal crown, this can cause problems when requiring this type of scan. The metal that exists in these crowns can distort the images captured by the MRI. It can also loosen the restoration or damage it.
To make sure your mouth will remain completely safe during an MRI, it's best to inform the technician so that they can decide whether you should have the scan or not.
What happens if you wait too long to get a dental crown?
It might seem like a panic-worthy situation, but the truth is that a loose or lost dental crown is not something you need to see your dentist on the same day. Waiting a day or two before receiving treatment is fine as long as you do not chew on the side with the lost crown and be careful when biting down. You do not want to further damage your natural tooth, so make sure to go ahead and call our office and alert us to the situation. We'll provide helpful tips to manage your situation until it's time to see your dentist in DeLand for treatment.