Dental Implants — DeLand, FL
An Attractive and Secure Restoration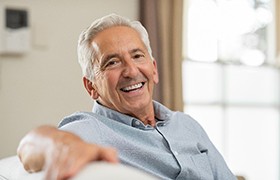 Whether you're living with one or all your teeth missing, it's important to replace them. The most reliable and aesthetically-pleasing option available is the insertion of dental implants in DeLand. What separates this procedure from any other method of tooth replacement, though? Read on to find out, and then, contact our office to request a visit with Dr. Cowell so you can finally get back to leading a happier and more productive life!
Why Choose Christopher J. Cowell, DMD for Dental Implants?
Partners with Local Dental Implant Specialists
Modern Technology Enhances Planning and Preparation
Transparent Dental Fees and Flexible Financing Available
What Are Dental Implants?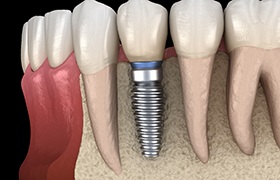 A dental implant consists of three major components. This includes the titanium post, the abutment, and the restoration, which could be either a crown, bridge, or denture. The post is designed to mimic the tooth root that was removed following extraction, ensuring proper stimulation can occur and longevity can be established. This results in a tooth replacement that not only is reliable for decades to come, but feels natural day-to-day. On top of that, the restoration looks identical to your natural teeth, ensuring only you and our team know you had teeth replaced.
The Dental Implant Process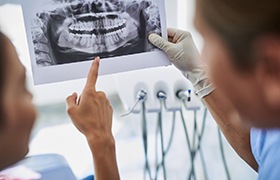 Before you begin your journey towards permanently replacing missing teeth with dental implants, we'll walk you through the process step-by-step. During your initial consultation, we'll plan out your entire treatment, including the timeline and pricing, to help you fully prepare for this multistep process. While every patient's tooth replacement plan will be unique to their specific needs and goals, you can find some of the basics of how dental implants work in DeLand below. When you're ready to start your journey towards a complete, confident smile, give us a call today to schedule your first appointment!
Initial Consultation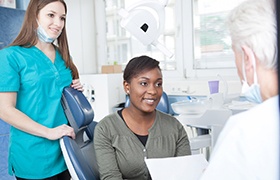 If you're interested in dental implants in DeLand, your first step is to come see Dr. Cowell for a consultation. He'll take the time to have a discussion with you about your tooth replacement goals, review your medical history, and inspect your oral health to see if you're a good candidate for dental implants. Issues like tooth decay and gum disease can threaten the success of dental implants, so we'll work with you to make a plan to address these problems if needed.
The dental implant insertion process is multi-faceted. We'll be there every step of the way to make sure each phase is completed as effectively and safely as possible. It starts with Dr. Cowell performing a thorough examination to determine your eligibility for the procedure and to develop a custom plan. He'll then forward the information to a local specialist, who will place the implant and abutment.
Dental Implant Surgery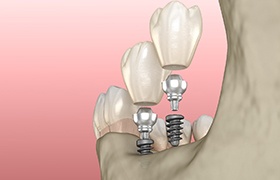 Once your oral health is on track and you're ready to start your treatment, your information will be sent to a highly skilled implant dentist in DeLand for the surgery. During your procedure, one or more small titanium implant posts will be placed into your jawbone to mimic the roots of the missing teeth. The post is then covered with a protective cap and the healing process will begin.
Osseointegration & Abutment Placement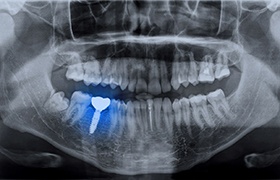 It will take several months for your mouth to fully heal and be ready for the next step of your treatment. During this time, the posts in your jaw undergo a transition called osseointegration where they fuse with the surrounding bone tissue to form a solid foundation for your dental implant. After your mouth has healed, a small connector piece called an abutment will be attached to the top of the post. This step can take anywhere from four to six months to complete. While it may seem like a long time, the incredible stability, functionality, and comfort are well worth the wait!
Delivery of Final Restoration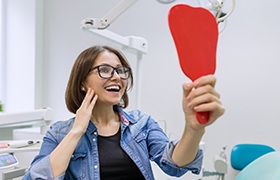 Once we receive your final crown, bridge, or denture, you'll come back to our office for the final step. We'll use the abutment piece to firmly anchor your new restoration onto your dental implant post. Finally, we'll check to ensure your bite feels comfortable and make any necessary minor adjustments. Then, you'll be ready to start enjoying your brand-new smile!
Benefits of Dental Implants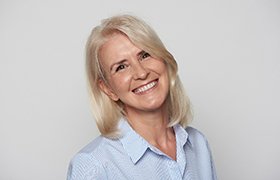 Having a full set of teeth offers more than just a nice smile. Here are some of the key benefits you'll enjoy with dental implant placement:
The dental implant procedure has a 95% success rate.
It replaces the entire structure, from the root to the crown.
With proper care, a dental implant can last for the rest of your life.
You can regain up to 75% of the natural chewing capabilities with dental implant insertion.
By being inserted beneath the gums, dental implants create a smile that looks like you were born with it.
Who Dental Implants Can Help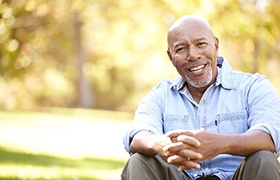 Dental implants are unique in that they provide an avenue for anyone with missing teeth, sufficient oral health and enough usable jawbone material to have their teeth replaced. There are several types of restorations available to accommodate patients' unique needs.
Missing One Tooth
If you're missing one tooth, the remedy is a single tooth dental implant and porcelain crown. The structure consists of the implant, the abutment (acts as an anchor) and the crown restoration. The combination of these three parts creates what is considered to be the most reliable form of tooth replacement available.
Missing Multiple Teeth
For multiple consecutive missing teeth, instead of placing an implant to replace each one, we'll create an implant bridge. Like the traditional dental bridge method, this option consists of two or more dental crowns arranged in a series. The difference, though, is that the apparatus attaches to one or two dental implants to create a lasting and secure new structure.
Missing All Teeth
If you're missing all your teeth, dental implants may still be the best answer for you. Instead of replacing a full arch of teeth with a denture that rests on top of your gums, we can anchor it in place with a few strategically placed implants. The end result is a beautiful, strong, and healthy smile that will never slip or pop out of place during your day-to-day life!
Understanding the Cost of Dental Implants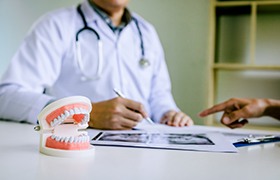 Receiving a dental implant is an involved procedure, and because each situation is different, the only way we can generate an accurate estimate is for you to visit our office to meet with your dentist in DeLand. Dr. Cowell will take the time to perform a careful examination and use his professional expertise to develop a complete replacement plan.
Some of the factors that will be considered in arriving at the final cost are the number of teeth you have missing, the condition of your oral health, and the amount of healthy jawbone that remains.
Types of Dental Implants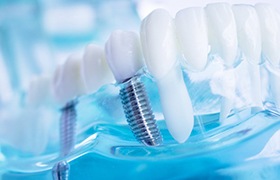 One of the most prominent factors behind the cost of your treatment is how many and what type of dental implants you need. If you're only looking to replace one tooth, you'll only need a single titanium post and dental crown. However, if you need to replace an entire arch of teeth, you'll need to pay for several titanium posts and a custom-made implant denture. Thankfully, you won't always need as many titanium posts as you have missing teeth. Your DeLand implant dentist will go over all your options and their related expenses during your consultation.
What are the Stages of Dental Implant Treatment?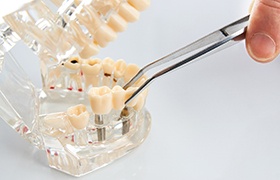 Since getting dental implants is a multistep process, you won't need to pay for your entire treatment upfront. Your smile will be rebuilt over the course of several months and across several stages, each of which will incur separate costs. A few of the steps you may need to pay for include:
Preliminary work
Implant placement surgery
Abutment placement
Design, creation, and placement of final restoration
Are Dental Implants Worth the Investment?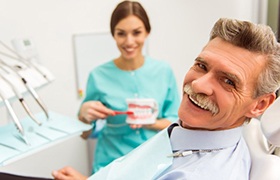 Yes, dental implants are well worth the investment! While other tooth replacement options only last a few years, dental implants can easily last a lifetime with the right care! This means that in the long run, they may end up becoming more cost-effective. What's more, dental implants promote healthier teeth, gums, and jawbone, which lowers your risk of serious oral health issues and the expenses that come with treating them. And perhaps more importantly, you can't put a price on the peace of mind and freedom your dental implants can give you in your day-to-day life.
Does My Dental Insurance Cover Dental Implants?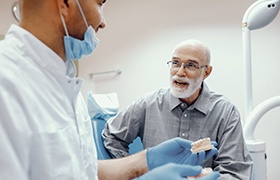 Since every dental insurance policy is different, there is no simple answer to this question. If you like, you can bring your dental insurance paperwork with you to your consultation and we'll be more than happy to go over the details of your specific policy. Our talented team has years of experience filing insurance claims on behalf of our patients to ensure that they're getting the most out of their benefits. We can also walk you through applying to CareCredit. This third-party financing option can break down the cost of your treatment into easy payments that fit into your monthly budget.
Dental Implant FAQs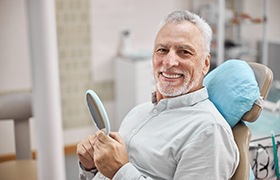 Are you still wondering whether or not dental implants in DeLand are right for you? Making the decision to invest in your smile can be hard, especially with so many factors to consider like cost, restoration lifespan, and weighing all the benefits. There's a reason that this modern solution comes highly recommended by patients and professionals alike, and that's because dental implants have so many advantages to offer compared to traditional restorations. We've compiled some common questions we receive from our patients below for your convenience.
Are dental implants safe?
At Christopher J. Cowell, DMD, we utilize the latest technology and high-quality materials to ensure that your procedure is safe and precise. Dental implants have been researched for decades and boast an impressive 95 percent success rate. Not everybody is a good candidate for dental implants, which is why Dr. Cowell conducts a thorough inspection of your oral health beforehand to check for adequate bone density and any possible complications.
Do dental implants last longer than traditional restorations?
Traditional restorations like bridges, dentures, and crowns typically need to be replaced every seven to 10 years. With dental implants, patients can enjoy their new replacement teeth for over three decades when they care for them properly. With regular visits to your dentist, Dr. Cowell, you can make sure that they stay in tip-top shape so you can enjoy them for years to come.
What can cause dental implant failure?
While implant failure is very rare, it does happen. When you visit Dr. Cowell for your initial consultation, he'll ask you a series of questions to assess your risk. If you have oral health issues like gum disease or bone deterioration, you'll need to have preparatory procedures like a bone graft or periodontal therapy completed before your surgery can be scheduled. Additionally, if you're a smoker, it's best to quit, because it can affect the rate at which your mouth is able to heal.
Maintaining & Caring for Your Dental Implants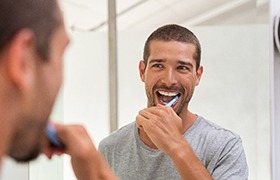 Dental implants are one of the closest restorative solutions to getting your natural teeth back. In fact, you care for them practically the same way. To keep your oral health in great shape, it's vital to floss every day and brush twice each day for two minutes. Rinsing with an antibacterial mouthwash regularly can also help ward off harmful oral bacteria that cause gum disease. After your procedure, Dr. Cowell will provide you with additional aftercare instructions to ensure that you get the most out of your new dental investment.