Dental Implants — DeLand, FL
An Attractive and Secure Restoration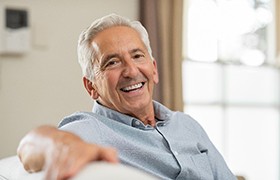 Whether you're living with one or all your teeth missing, it's important to replace them. The most reliable and aesthetically-pleasing option available is the insertion of dental implants in DeLand, FL. What separates this procedure from any other method of tooth replacement, though? Read on to find out, and then, contact our dental office to request a visit with Dr. Cowell so you can finally get back to leading a happier and more productive life!
Why Choose Christopher J. Cowell, DMD for Dental Implants?
Partners with Local Dental Implant Specialists
Modern Technology Enhances Planning and Preparation
Transparent Dental Fees and Flexible Financing Available
What Are Dental Implants?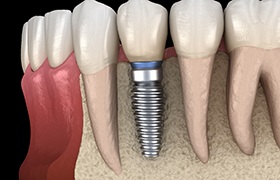 A dental implant consists of three major components. This includes the titanium post, the abutment, and the restoration, which could be either a crown, bridge, or denture. The post is designed to mimic the tooth root that was removed following extraction, ensuring proper stimulation can occur and longevity can be established. This results in a tooth replacement that not only is reliable for decades to come, but feels natural day-to-day. On top of that, the restoration looks identical to your natural teeth, ensuring only you and our team know you had teeth replaced.
The Dental Implant Process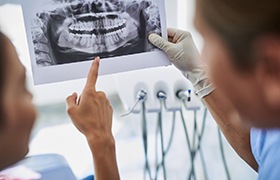 Before you begin your journey towards permanently replacing missing teeth with dental implants, we'll walk you through the process step-by-step. During your initial consultation, we'll plan out your entire treatment, including the timeline and pricing, to help you fully prepare for this multistep process. While every patient's tooth replacement plan will be unique to their specific needs and goals, you can find some of the basics of how dental implants work in DeLand below. When you're ready to start your journey towards a complete, confident smile, give us a call today to schedule your first appointment!
Initial Consultation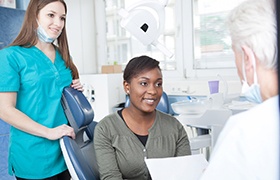 If you're interested in dental implants in DeLand, your first step is to come see Dr. Cowell for a consultation. He'll take the time to have a discussion with you about your tooth replacement goals, review your medical history, and inspect your oral health to see if you're a good candidate for dental implants. Issues like tooth decay and gum disease can threaten the success of dental implants, so we'll work with you to make a plan to address these problems if needed.
The dental implant insertion process is multi-faceted. We'll be there every step of the way to make sure each phase is completed as effectively and safely as possible. It starts with Dr. Cowell performing a thorough examination to determine your eligibility for the procedure and to develop a custom plan. He'll then forward the information to a local specialist, who will place the implant and abutment.
Dental Implant Surgery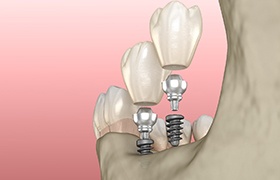 Once your oral health is on track and you're ready to start your treatment, your information will be sent to a highly skilled implant dentist in DeLand for the surgery. During your procedure, one or more small titanium implant posts will be placed into your jawbone to mimic the roots of the missing teeth. The post is then covered with a protective cap and the healing process will begin.
Osseointegration & Abutment Placement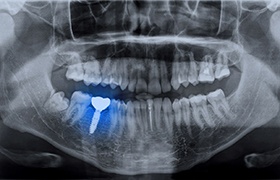 It will take several months for your mouth to fully heal and be ready for the next step of your treatment. During this time, the posts in your jaw undergo a transition called osseointegration where they fuse with the surrounding bone tissue to form a solid foundation for your dental implant. After your mouth has healed, a small connector piece called an abutment will be attached to the top of the post. This step can take anywhere from four to six months to complete. While it may seem like a long time, the incredible stability, functionality, and comfort are well worth the wait!
Delivery of Final Restoration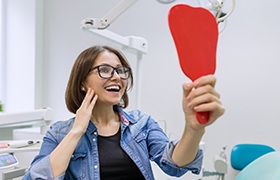 Once we receive your final crown, bridge, or denture, you'll come back to our dental office for the final step. We'll use the abutment piece to firmly anchor your new restoration onto your dental implant post. Finally, we'll check to ensure your bite feels comfortable and make any necessary minor adjustments. Then, you'll be ready to start enjoying your brand-new smile!
Benefits of Dental Implants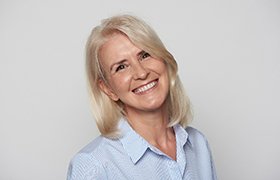 Why does Dr. Cowell recommend dental implants so often? The answer is simple – they're the only tooth loss treatment that recreates every part of a missing tooth. As a result, the benefits of dental implants in DeLand are more comprehensive than traditional options like bridges and dentures. In addition to completing your smile, dental implants can transform your smile in numerous ways. Here are just a few of them!
Day-to-Day Benefits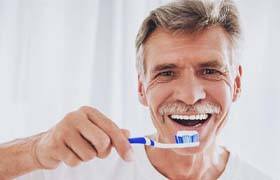 Stability – Dental implants are embedded within your jawbone, so you won't have to worry about your teeth slipping out of place like you would with dentures. You can smile and eat your favorite foods to your heart's content with the confidence that your teeth will stay in place.
Clear speech – People with dentures sometimes end up unintentionally slurring their words, whistling, or clicking when their prosthetics are too loose. Because dental implants are anchored to your jaw, they allow you to talk without difficulty.
Easy maintenance – While dentures require you to learn a complicated oral care routine, dental implants are easy to take care of. Since your new teeth can only be removed by an implant dentist in DeLand, they stay in your mouth at all times. This means you can brush and floss them as if they were your real pearly whites.
Health Benefits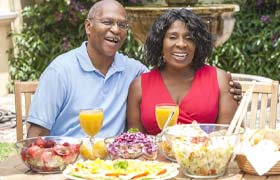 Varied diet – In addition to letting you enjoy the tastes of your favorite foods, dental implants make it easier to maintain a balanced diet full of fruits, vegetables, meats, and other nutritious items. You won't need to cut up your food ahead of time like many denture wearers do; simply chew as if you'd never lost any teeth in the first place!
Stronger jawbone – After a tooth is removed, the part of the jawbone that it once supported begins to deteriorate. Dental implants are the only option that stimulate the jawbone in the same manner as real teeth. By replacing a tooth with a dental implant soon after an extraction, you won't have to worry about jawbone loss.
Reduced risk of gum disease – Oral hygiene becomes simple with dental implants; there isn't a risk of food debris and bacteria accumulating as they might under a denture. Therefore, your risk for gum disease and other oral health issues decreases significantly.
Long-Term Benefits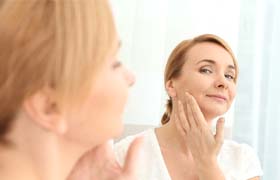 Youthful glow – By stimulating the jawbone, dental implants in DeLand prevent the collapse of your facial features that would ordinarily occur after tooth loss and make you look older than you really are. With dental implants, you can preserve a youthful appearance for years to come!
High success rate – Even after more than a decade, dental implants are successful in more than 95% of cases.
Longevity – While conventional bridges and dentures tend to break down after 10 years at most, dental implants can last for 30 years or longer with the right care. In fact, many of our dental implant patients are able to keep their new teeth for the rest of their lives!
Who Dental Implants Can Help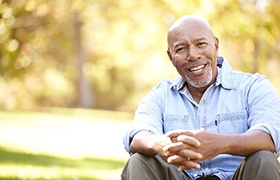 Dental implants are unique in that they provide an avenue for anyone with missing teeth, sufficient oral health, and enough usable jawbone material to have their teeth replaced. There are several types of restorations available to accommodate patients' unique needs.
Who Is a Good Candidate for Dental Implants?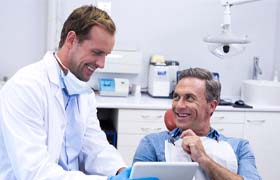 Most healthy adults are able to get dental implants. Here are some characteristics of a good dental implant candidate:
Excellent Overall Health: Placing dental implants is a surgical procedure, so it's important that you're in good enough health to undergo a minor surgery.
Great Oral Health: Cavities and gum disease can increase your risk of dental implant failure. You will need to have issues like these addressed ahead of time.
Adequate Jawbone Density: It's essential that your jawbone's strong enough to support dental implants for your treatment to be successful.
If you have preexisting oral health issues, you may still be able to get dental implants. Many of our patients need to complete preliminary treatments, like tooth extractions, gum disease therapy, or bone grafting before getting dental implants. During your initial consultation, we will evaluate your smile and put together a plan that's ideal for you.
Missing One Tooth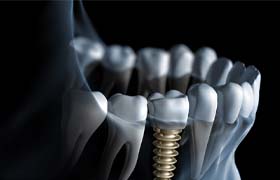 If you're missing one tooth, the remedy is a single tooth dental implant and porcelain crown. The structure consists of the implant, the abutment (acts as an anchor) and the crown restoration. The combination of these three parts creates what is considered to be the most reliable form of tooth replacement available.
Missing Multiple Teeth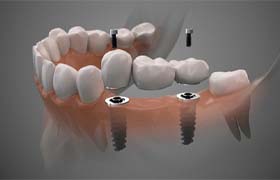 For multiple consecutive missing teeth, instead of placing an implant to replace each one, we'll create an implant bridge. Like the traditional dental bridge method, this option consists of two or more dental crowns arranged in a series. The difference, though, is that the apparatus attaches to one or two dental implants to create a lasting and secure new structure.
Missing All Teeth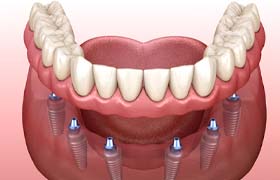 If you're missing all your teeth, dental implants may still be the best answer for you. Instead of replacing a full arch of teeth with a denture that rests on top of your gums, we can anchor it in place with a few strategically placed implants. The end result is a beautiful, strong, and healthy smile that will never slip or pop out of place during your day-to-day life!
You may be a candidate for All-on-4 Dentures. This method is ideal for patients who have inadequate jawbone density, possibly because they've been missing teeth for a long time. Like the name implies, this option anchors a full denture with just 4 strategically placed implants.
Learn More About Implant Dentures
Understanding the Cost of Dental Implants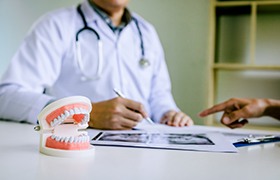 Receiving a dental implant is an involved procedure, and because each situation is different, the only way we can generate an accurate estimate is for you to visit our dental office to meet with your dentist in DeLand. Dr. Cowell will take the time to perform a careful examination and use his professional expertise to develop a complete replacement plan. Until you're able to see us for your consultation, here are some things for you to keep in mind about the cost of treatment.
Preliminary Treatments & Dental Implant Surgery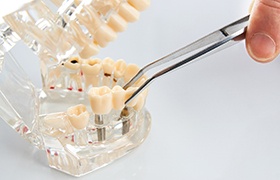 Any preliminary treatments that you require before you can get dental implants, including gum disease therapy, tooth extractions, and bone grafting, will contribute to the overall cost. For many patients, these treatments are necessary to ensure that the implants are successful. Preliminary treatments are sometimes covered by dental insurance, so this is something you should check with your insurance provider. In order to ensure that you achieve the best results possible, we work with local specialists for your placement procedure. They will discuss with your separately exactly what you can expect to pay for surgery.
The Parts of Your Dental Implant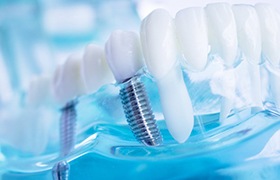 One of the most prominent factors behind the cost of your treatment is how many and what type of dental implants you need. If you're only looking to replace one tooth, you'll only need a single titanium post and dental crown. However, if you need to replace an entire arch of teeth, you'll need to pay for several titanium posts and a custom-made implant denture. Thankfully, you won't always need as many titanium posts as you have missing teeth. Your DeLand implant dentist will go over all your options and their related expenses during your consultation.
How Dental Implants Pay for Themselves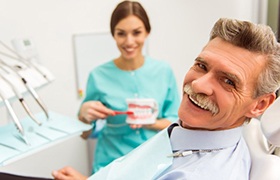 While other tooth replacement options only last a few years, dental implants can easily last a lifetime with the right care! This means that in the long run, they may end up becoming more cost-effective. What's more, dental implants promote healthier teeth, gums, and jawbone, which lowers your risk of serious oral health issues and the expenses that come with treating them. And perhaps more importantly, you can't put a price on the peace of mind and freedom your dental implants can give you in your day-to-day life.
Does My Dental Insurance Cover Dental Implants?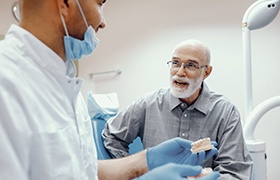 Since every dental insurance policy is different, there is no simple answer to this question. If you like, you can bring your dental insurance paperwork with you to your consultation, and we'll be more than happy to go over the details of your specific policy. Our talented team has years of experience filing insurance claims on behalf of our patients to ensure that they're getting the most out of their benefits.
Making Dental Implants Affordable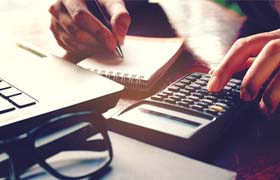 If you don't have dental insurance, this doesn't necessarily mean that you will be left in the dust. We can walk you through applying to CareCredit. This third-party financing option can break down the cost of your treatment into easy payments that fit into your monthly budget. Talk to one of our friendly team members to learn more about your options.
Advanced Dental Implant Procedures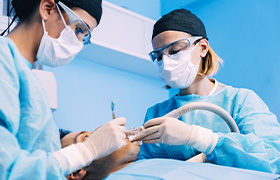 To be a good candidate for dental implants in DeLand, your jawbone must be in good shape. Similar to a house, there must be a solid foundation for dental implants to fuse and support a custom-made restoration. If your jawbone isn't in optimal condition, don't worry – all you need is a bit of help to get the process started! Dr. Cowell will refer you to a specialist to perform advanced procedures like one grafting, sinus lifts, PRP therapy, and ridge expansion. That way, you can successfully replace the gaps in your smile with dental implants.
Bone Grafting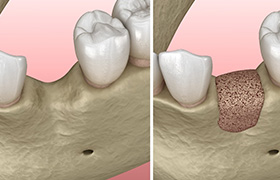 After dental implant surgery, it takes about three to six months for the titanium posts to fuse with the surrounding bone tissue via osseointegration. For successful treatment, everything must together smoothly to create a solid foundation for the restoration. However, your jawbone may not be able to support dental implants if it's too weak from deterioration. That's where bone grafting comes in to save the day!
Bone grafting is often recommended for patients with inadequate jawbone density. It involves taking bone minerals from another location in the body (or a donor) and placing them into the weakened area of the jawbone, strengthening it. While you may need several months of recovery following this procedure, it's essential to ensure the long-term success of your dental implants.
Sinus Lifts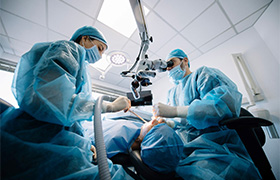 When the upper jaw deteriorates, the sinus cavities may be too close to where the dental implants need to be placed, making it difficult to place anything there. In this case, a sinus lift may be necessary.
Sinus lifts are a specific type of bone grafting designed to address this particular problem. An incision is made in the gums to create an opening in the exposed bone. The thin membrane holding the sinuses is pushed back and out of the way, then bone grafting material is added into the new space to thicken the jawbone. After about four to nine months, your mouth will be ready for dental implant placement.
PRP Therapy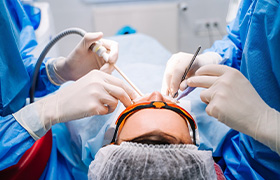 This procedure may be necessary to ensure you have a smooth-sailing recovery. PRP therapy is clinically proven to help patients heal faster with fewer complications after oral surgery. Essentially, platelet rich plasma (PRP) is applied to the area where surgery was performed. The growth factors in the platelets will dramatically speed up the healing process. Not only does it reduce your need for strong pain medication, but it significantly lowers your risk of infection or other complications after surgery.
Ridge Expansion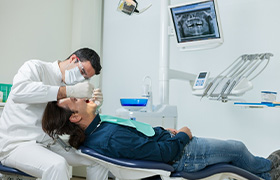 If your jaw isn't wide enough to support dental implants, ridge expansion may help. It's commonly performed after a tooth extraction to help recreate the natural contour of the gums and jaw that may have been lost.
Your specialist will divide the ridge bone, wedging the inner and outer segments apart. That helps create a space between the divided sections that can be filled with a bone graft. Then, gum tissue is placed over the socket and secured with sutures to complete the process. Once you're all healed up, you'll be ready to move forward with dental implant placement.
Dental Implant FAQs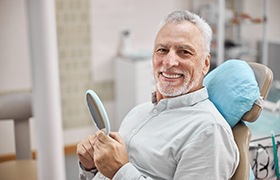 Are you still wondering whether or not dental implants in DeLand are right for you? Making the decision to invest in your smile can be hard, especially with so many factors to consider like cost, restoration lifespan, and weighing all the benefits. There's a reason that this modern solution comes highly recommended by patients and professionals alike, and that's because dental implants have so many advantages to offer compared to traditional restorations. We've compiled some common questions we receive from our patients below for your convenience.
Are dental implants safe?
At Christopher J. Cowell, DMD, we utilize the latest technology and high-quality materials to ensure that your procedure is safe and precise. Dental implants have been researched for decades and boast an impressive 95 percent success rate. Not everybody is a good candidate for dental implants, which is why Dr. Cowell conducts a thorough inspection of your oral health beforehand to check for adequate bone density and any possible complications.
Do dental implants last longer than traditional restorations?
Traditional restorations like bridges, dentures, and crowns typically need to be replaced every 7 to 10 years. With dental implants, patients can enjoy their new replacement teeth for over three decades when they care for them properly. With regular visits to your dentist, Dr. Cowell, you can make sure that they stay in tip-top shape so you can enjoy them for years to come. On top of that, we'll confirm that you have the most favorable treatment outcome possible by confirming your eligibility ahead of time as well as go over any risk factors that could affect your treatment.
What can cause dental implant failure?
While implant failure is very rare, it does happen. The two main causes of dental implant failure include failed osseointegration and peri-implantitis. When you visit Dr. Cowell for your initial consultation, he'll ask you a series of questions to assess your risk. If you have oral health issues like gum disease or bone deterioration, you'll need to have preparatory procedures like a bone graft or periodontal therapy completed before your surgery can be scheduled. Additionally, if you're a smoker, it's best to quit at least two to four weeks before beginning surgery because it can affect the rate at which your mouth is able to heal.
How long does recovery take for dental implants?
Most patients are able to resume normal activities the day after surgery. Of course, everyone heals at their own pace and some may not feel as comfortable going back to work or doing other activities as soon as others. Recovery time can also depend on the complexity of the implant surgery. If you have a physically demanding job, it may be best to take three to four days off. A great way to make this work is to schedule your treatment on a Thursday or Friday in preparation for the weekend.
Maintaining & Caring for Your Dental Implants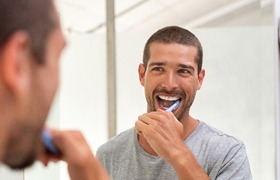 Dental implants are one of the closest restorative solutions to getting your natural teeth back. In fact, you care for them practically the same way. To keep your oral health in great shape, it's vital to practice the right habits along the way to ensure they stay healthy for decades to come. After your permanent restoration is attached, Dr. Cowell will provide you with additional tips to ensure that you get the most out of your new dental investment. Until then, you can learn more about them below for your convenience!
Make Oral Hygiene a Priority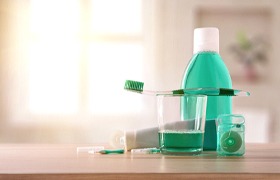 To keep your dental implants healthy, you will need to floss every day and brush twice each day for two minutes. These steps alone work to remove most dental plaque and prevent the development of cavities. Rinsing with an antibacterial mouthwash regularly can also help ward off harmful oral bacteria that cause gum disease, which is crucial to ensuring the longevity of dental implants. If the gums become infected, teeth can fall out as a result, and that includes replacement teeth.
Eat a Healthy Diet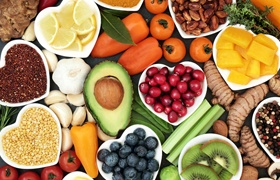 While you can eat the foods you want with dental implants, you should still make an effort to keep your diet balanced. After all, bathing the mouth in sugar and starch (which breaks down into sugar) only lowers the pH balance of your mouth. This creates an environment for oral bacteria to create plaque acids more quickly and efficiently, putting you at higher risk for dental disease. To get started, consider the amount of fruits, vegetables, lean proteins, and dairy products you consume in a day, then adjust accordingly.
Break Bad Habits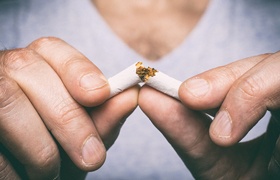 Just like with natural teeth, there are many habits that can cause damage to dental implants and even cause them to fail. For example, smoking or using any kind of tobacco has been proven to accelerate the development of gum disease, a leading cause of tooth loss in adults. Furthermore, habits like teeth grinding, biting or chewing on fingernails, using your teeth as a tool (i.e. to open bottles, packages, etc.) or chewing on pens and pencils can all damage dental implants.
Protect Your Dental Implants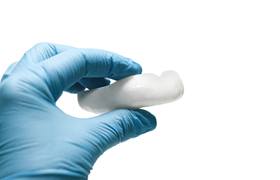 If you're active, then you understand the importance of wearing the right protective gear to avoid serious injury. Much like how you should wear a helmet when riding a bike or pads when skateboarding, you should be wearing a mouthguard whenever there is a high risk for impact in the activity you're participating in. This includes sports like football, basketball, baseball, hockey, boxing, karate, or another physical activity.
Schedule Regular Dental Checkups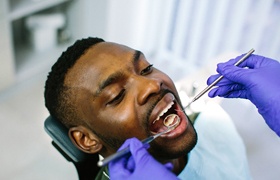 Dental implants should be examined every six months by our dental office to ensure the implant remains fully integrated and the restoration has not been damaged. On top of that, we can make sure that your at-home oral hygiene is doing enough to prevent dental disease and catch underlying conditions before they turn into serious dental emergencies.