Dental Implants – Deland, FL
An Attractive and Secure Restoration
Whether you're living with one or all your teeth missing, it's important to replace them. The most reliable and aesthetically-pleasing option available is the insertion of dental implants in Deland. What separates this procedure from any other method of tooth replacement, though? Read on to find out, and then, contact our office to request a visit with Dr. Cowell so you can finally get back to leading a happier and more productive life!
Benefits of Dental Implants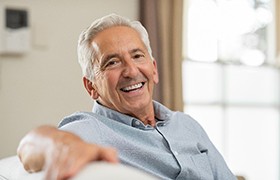 Having a full set of teeth offers more than just a nice smile. Here are some of the key benefits you'll enjoy with dental implant placement:
The dental implant procedure has a 95% success rate.
It replaces the entire structure, from the root to the crown.
With proper care, a dental implant can last for the rest of your life.
You can regain up to 75% of the natural chewing capabilities with dental implant insertion.
By being inserted beneath the gums, dental implants create a smile that looks like you were born with it.
Indications for Dental Implants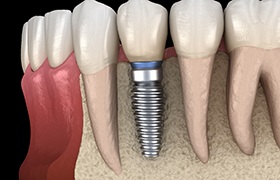 Dental implants are unique in that they provide an avenue for anyone with missing teeth, sufficient oral health and enough usable jawbone material to have their teeth replaced. There are several types of restorations available to accommodate patients' unique needs.
Implant-Retained Crown
If you're missing one tooth, the remedy is a single tooth dental implant and porcelain crown. The structure consists of the implant, the abutment (acts as an anchor) and the crown restoration. The combination of these three parts creates what is considered to be the most reliable form of tooth replacement available.
Implant-Retained Bridge
For multiple consecutive missing teeth, instead of placing an implant to replace each one, we'll create an implant-retained bridge. Like the traditional dental bridge method, this option consists of two or more dental crowns arranged in series. The difference, though, is that the apparatus attaches to a single dental implant to create a lasting and secure new structure.
Implant-Retained Denture
If you're missing all your teeth, dental implant insertion is still the best answer. After creating a custom replacement plan, Dr. Cowell will forward the information to an in-network specialist, who will perform the insertion procedure. Then, after you've healed sufficiently, we'll place a custom-designed full set of dentures that will connect to four to six strategically-placed dental implants.
Team-Based Dental Implant Treatment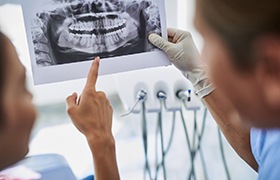 The dental implant insertion process is multi-faceted. We'll be there every step of the way to make sure each phase is completed as effectively and safely as possible. It starts with Dr. Cowell performing a thorough examination to determine your eligibility for the procedure and to develop a custom plan. As mentioned earlier, he'll then forward the information to a local specialist, who will place the implant and abutment.
After you've healed, we'll then provide a custom restoration that matches the color, shape and overall appearance of any remaining teeth. Through our coordinated efforts, you can rest assured that you're getting the absolute best care at each stage of the dental implant process to leave you fully restored.
Understanding the Cost of Dental Implants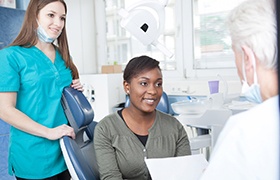 Receiving a dental implant is an involved procedure, and because each situation is different, the only way we can generate an accurate estimate is for you to visit our office to meet with your dentist in Deland. Dr. Cowell will take the time to perform a careful examination and use his professional expertise to develop a complete replacement plan.
Some of the factors that will be considered in arriving at the final cost are the number of teeth you have missing, the condition of your oral health and the amount of healthy jawbone that remains.
To learn more about the dental implant procedure and to get on the road to smile perfection, contact us today to schedule your first visit!