Dental Bonding – DeLand, FL
Correcting Cosmetic Flaws Is Easier Than You Think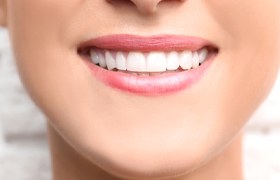 If you've been considering cosmetic dentistry to enhance your smile and self-confidence, you'll be thrilled to know that, in some cases, it can be done in just one visit. For minor or moderate cavities and cosmetic flaws, Dr. Cowell can use dental bonding in our DeLand, FL dental office to restore the appearance of your teeth and give you a beautiful smile that feels great. If you want to improve the way you look with the least amount of dental work possible, contact us today to schedule a consultation!
How Does Dental Bonding Work?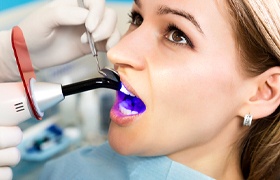 Direct bonding is done by "bonding" a tooth-colored material called composite resin to the teeth. Since we'll match this material to your existing tooth color, some people prefer to get a whitening treatment first to help their final result look even better. Also called cosmetic bonding, this procedure is a simple and effective way to repair cavities and make cosmetic changes to the front teeth. By shaping the material to blend in perfectly with your existing smile, we'll give you a gorgeous result that also looks very natural.
Who Is a Candidate For Dental Bonding?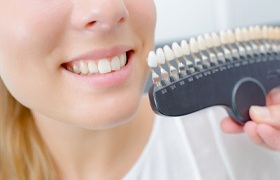 As a dentist in DeLand with decades of experience in cosmetic work, Dr. Cowell has used direct bonding to correct all of the following issues:
Small gaps between the front teeth
Chips and cracks
Lengthening short teeth
Reshaping imperfect teeth
Fixing small to moderate-sized cavities
Replacement of metal fillings
However, our goal is always to make sure you get the smile you want, so we may recommend a different option for more severe cosmetic issues.
What Are the Benefits of Dental Bonding?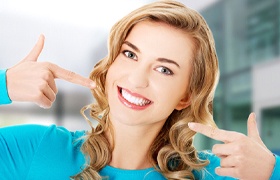 Direct bonding offers all of the following benefits:
It's fast and easy – We can typically complete the procedure in just 30-60 minutes per tooth.
Numbing may not be necessary – When bonding is simply added to the existing tooth structure to mask a cosmetic flaw, numbing isn't necessary. However, when it's used to repair a cavity, numbing the area is recommended because we need to remove decayed tooth structure first.
Little to no downtime – After applying and shaping the material, we'll use a special curing light to harden it. When you leave, you'll be able to resume your normal activities and can eat and drink right away.
Strength – The composite material used for bonding is also used for fillings on the back teeth, so it's very strong. With proper maintenance, it can last 5-10 years or more.
To care for your bonding, practice good oral hygiene habits and see us for regular checkups. This helps us catch any small problems early and also minimizes staining from coffee, tea, red wine, etc. It's also a good idea to avoid chewing on ice, pens, or hard candies and wear a nightguard if you clench and grind.
Want to know if direct bonding in DeLand is right for you? Scheduling a consultation with us is your first step. After we've discussed your goals and evaluated your needs, we'll create the perfect treatment plan for your smile.