Tooth-Colored Fillings – DeLand, FL
Repairing Tooth Decay with Beauty and Strength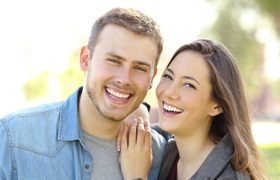 Restoring cavities is important to your oral health, but do you have metal fillings that affect the appearance of your smile? Dr. Christopher J. Cowell believes that filling cavities shouldn't come with an aesthetic disadvantage. That's why he offers tooth-colored fillings at his dental office. Now, you can receive fillings that blend in with the rest of your smile. We can even replace your old amalgam fillings to give you a smile that you can't wait to show off. Keep reading to learn more about tooth-colored fillings in DeLand, FL and the advantages that they have over metal.
What are Tooth-Colored Fillings?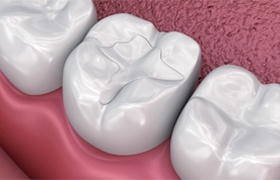 Tooth-colored fillings are dental restorations that are made of tooth-colored composite resin. This special blend of plastic is not only durable and strong, but it mimics the appearance of your natural teeth for a seamless restoration. We use tooth-colored fillings to treat small to medium-sized cavities, caring for our patients without affecting their appearance. This is a newer option in dentistry compared to amalgam (metal) fillings, which have been used for over one hundred years.
Tooth-Colored Fillings Procedure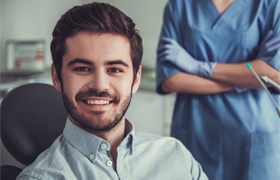 During your first visit with Dr. Cowell, if he detects a cavity or an area of decay, we will schedule a second appointment for your filling. Once you come back into our dental office, we will ensure that you're numb and comfortable before beginning.
Initially, your cosmetic dentist in DeLand will clean away any remaining damage or decay and then isolate the tooth. Then, he will place the tooth-colored composite resin in the area of decay to fill and protect it. After the filling is placed, he will use a special heating lamp to harden it permanently. Last but not least, he will adjust the height of your fillings for a seamless bite and then polish them to reflect light like your natural teeth.
The Benefits of Tooth-Colored Fillings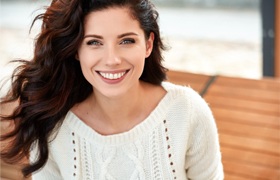 We provide tooth-colored fillings to our patients because of these advantages:
Appearance: Their primary benefit, tooth-colored fillings blend into your smile so no one will be able to notice that you've had tooth decay in the past.
Oral Health: Some people have a sensitivity or allergy to metal, and there has been concern about mercury for years. Because of these health reasons, many patients choose tooth-colored fillings.
Comfort: Metal fillings expand and contract with hot or cold temperatures, causing pain and sensitivity. Because tooth-colored fillings are made of resin, your sensitivity is decreased and even nonexistent.
Placement: Metal fillings require the removal of some dental structure for there placement, whereas tooth-colored fillings allow us to maintain your natural dental structure.
Could your smile benefit from an aesthetically-pleasing solution for cavities and decay? Request an appointment with our dental office today to take your first step towards a healthy and beautiful set of teeth.