Dentures – DeLand, FL
You Can Still Smile After Tooth Loss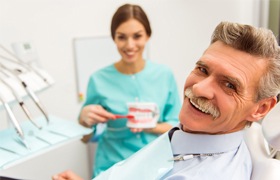 Dr. Cowell and the rest of our team believe that everyone should be able to smile, no matter what their dental history is like. While many people (understandably) feel anxious about their oral health after tooth loss, we've used dentures to help countless patients move forward with a beautifully restored smile so they can eat, speak, and laugh with confidence. If you've experienced tooth loss and want to know how dentures in DeLand can help you, contact us to schedule a consultation. With years of experience and a gentle, compassionate touch, we'll make the process comfortable from start to finish!
What Is the Process Like?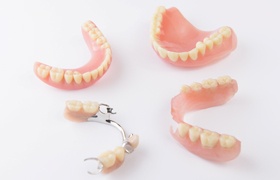 Dr. Cowell will start with a thorough evaluation to assess your needs and recommend the best treatment plan for you. After looking at your current dental health, goals, lifestyle, and other factors, he'll take images and impressions of your existing teeth and jaws. Your dentures will then be custom-made to fit perfectly and look natural.
After any necessary extractions are done, you'll have the option of using an immediate denture for the next several months while everything fully heals. This is a temporary solution before getting your permanent denture so you don't have to be without teeth during this time.
Different Dentures For Different Needs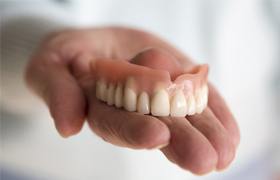 As a dentist in DeLand with years of experience and the latest techniques, we provide modern dentures that look and feel better than ever. And since each person is different, there are various types of dentures to suit everyone's needs perfectly.
Full Dentures
Traditional full dentures are made with a flesh-colored acrylic base that includes a complete set of prosthetic teeth. These appliances are held in place with a combination of natural suction and adhesive and should be removed and cleaned each day with special products designed for denture care. Although they'll need to be periodically re-lined to continue fitting well, dentures can last 5-10 years before they need to be replaced.
Partial Dentures
A partial denture is a great way to replace anywhere from one to several teeth. It includes prosthetic teeth on either a plastic base or metal framework that fits around the existing teeth with clasps. Just like full dentures, a partial denture is removable and can be taken out and cleaned each time you brush your teeth.
Even if you only have a few natural teeth remaining on the upper or lower arch, this is one option that may work for you, especially if you want a low-cost or temporary alternative to a bridge or implant.
Implant-Retained Dentures
For this option, usually just 2-6 implants are needed per arch to anchor a denture into place. An implant-retained denture provides many benefits, including improved stability and chewing power as well as maintaining your bone mass and facial structure over time. It also minimizes or eliminates the need for adhesive and won't be at risk for slipping out of place during a meal or conversation.
Want to know which choice is right for your smile? Give us a call so we can discuss the best option for you!
Learn More About Implant-Retained Dentures
Denture FAQs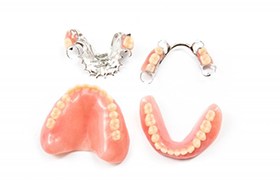 No matter how many teeth you're missing, dentures in DeLand can provide a comfortable and lifelike solution. However, you may be a bit apprehensive about going through with the treatment, or you may have some questions about the details of the process. Don't worry, we've taken the time to answer some of our most frequently asked questions about dentures down below for your benefit.
Can I Sleep in My Dentures?
While you can wear your dentures to bed, we highly recommend removing them at night. Doing so gives your gums and jawbone a chance to recover from the pressure of holding the dentures in place all day. Not to mention, you should never wear your dentures for a solid 24 hours without cleaning them in some way. Taking them out before bed gives you the perfect opportunity to let them soak during the night.
How Do I Clean My Dentures?
We suggest letting your dentures soak in either denture cleanser or water while you sleep. Only use cool or lukewarm water. Hot water could warp the shape of the dentures, resulting in them losing their comfortable fit. Every morning, before placing your dentures in your mouth, gently brush your gums, tongue, and palate with a soft-bristled toothbrush to stimulate blood flow and remove food debris and plaque. Also brush your dentures, but be sure to not use toothpaste since it could be abrasive.
Does Getting Dentures Hurt?
When you're first fitted with a new pair of dentures, you may experience some soreness in your gums, especially if you recently had one or more teeth extracted to make room for the dentures. The length of this discomfort may vary. If you've worn dentures before and are adjusting to a new set, it may take longer for your mouth to get used to your new teeth. For this reason, we strongly recommend visiting us your dentist in DeLand at regular intervals during the healing process to help you adjust and minimize your discomfort.
How Can I Get Used to Eating with Dentures?
It can take some time, usually a few weeks, to grow fully accustomed to eating with dentures. At first, it may help to cut your food into tiny, bite-sized chunks and gradually work your way up to larger sized bites. It also helps to chew evenly with both sides of your mouth. If you find your dentures slipping around while you eat, try applying a little denture adhesive before eating to keep them in place.