Dentures – DeLand, FL
You Can Still Smile After Tooth Loss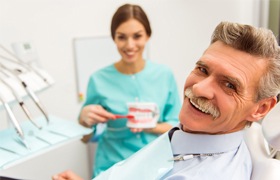 Dr. Cowell and the rest of our team believe that everyone should be able to smile, no matter what their dental history is like. While many people (understandably) feel anxious about their oral health after tooth loss, we've used dentures to help countless patients move forward with a beautifully restored smile so they can eat, speak, and laugh with confidence. If you've experienced tooth loss and want to know how dentures in DeLand can help you, contact us to schedule a consultation to discuss tooth replacement with dentures in DeLand, FL. With years of experience and a gentle, compassionate touch, we'll make the process comfortable from start to finish!
Who's a Good Candidate for Dentures?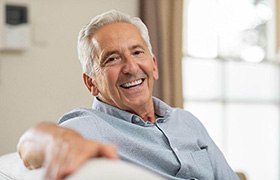 Whether you're missing a single tooth, several, or all, dentures can be a suitable solution for nearly everyone. These customized prosthetic teeth are designed to restore your smile. To determine if dentures are the right choice for you, the first step is to arrange an initial consultation with our team. Even if dentures aren't currently a feasible option, we may be able to assist in revitalizing the health of your jawbone structure and gum line.
Effects of Missing Teeth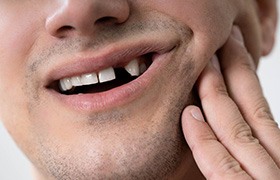 According to the American College of Prosthodontists, common reasons for tooth loss include gum disease, tooth decay, and injury. In cases of gum infection or inflammation, the connective tissue holding your teeth in place can be compromised. Occasionally, severely decayed teeth may need to be extracted to protect your overall oral health. Additionally, a significant impact to the mouth can lead to a tooth being knocked out.
When teeth are lost, the jawbone may start to recede due to reduced blood flow stimulation. This weakening of the bone tissue increases the risk of further tooth loss. Without a root to support the jawbone, complications such as facial sagging, challenges with eating and speaking, and decreased self-confidence can arise.
What Qualifies You for Dentures?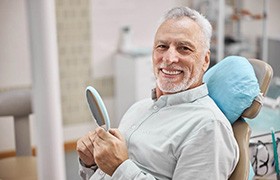 Most patients experiencing extensive tooth loss can benefit from dentures. These prosthetics have been enhancing eating, speaking, and smiling confidence for centuries. While the materials and techniques for creating dentures have evolved, their ability to restore a complete smile remains the same.
Even if you're not sure about your eligibility, you should still arrange a consultation with our team. We'll assess your specific needs and the suitability of these prosthetics for your smile. During your visit, we'll determine which type of denture best suits you (whether it's a full, partial, or implant denture). As long as you're in good overall health, have healthy gums, and sufficient jawbone, and are missing an entire row of teeth, you qualify for treatment.
Alternative Tooth-Replacement Options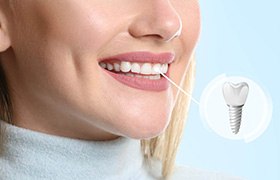 If dentures aren't suitable for you, our team can explore alternative options for replacing missing teeth. These may encompass:
Dental Bridges – Ideal for individuals with consecutive missing teeth, dental bridges rely on healthy neighboring teeth on either side of the gap for support.
Dental Implants – This solution involves surgically inserting titanium posts into your jawbone to anchor your new teeth. It requires a sturdy facial structure and ample bone density. Though it may have a higher initial investment, the benefits can be enjoyed for a lifetime.
Learn More About Dental Bridges
What Is the Process Like?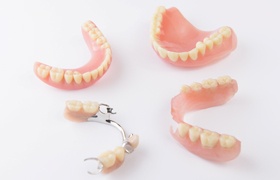 Dr. Cowell will start with a thorough evaluation to assess your needs and recommend the best treatment plan for you. After looking at your current dental health, goals, lifestyle, and other factors, he'll take images and impressions of your existing teeth and jaws. Your dentures will then be custom-made to fit perfectly and look natural.
After any necessary extractions are done, you'll have the option of using an immediate denture for the next several months while everything fully heals. This is a temporary solution before getting your permanent denture so you don't have to be without teeth during this time.
Different Dentures For Different Needs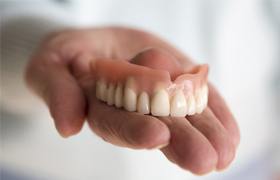 As a dentist in DeLand with years of experience and the latest techniques, we provide modern dentures that look and feel better than ever. And since each person is different, there are various types of dentures to suit everyone's needs perfectly.
Full Dentures
Traditional full dentures are made with a flesh-colored acrylic base that includes a complete set of prosthetic teeth. These appliances are held in place with a combination of natural suction and adhesive and should be removed and cleaned each day with special products designed for denture care. Although they'll need to be periodically re-lined to continue fitting well, dentures can last 5-10 years before they need to be replaced.
Partial Dentures
A partial denture is a great way to replace anywhere from one to several teeth. It includes prosthetic teeth on either a plastic base or metal framework that fits around the existing teeth with clasps. Just like full dentures, a partial denture is removable and can be taken out and cleaned each time you brush your teeth.
Even if you only have a few natural teeth remaining on the upper or lower arch, this is one option that may work for you, especially if you want a low-cost or temporary alternative to a bridge or implant.
Dental Implant-Retained Dentures
For this option, usually just 2-6 implants are needed per arch to anchor a denture into place. An implant-retained denture provides many benefits, including improved stability and chewing power as well as maintaining your bone mass and facial structure over time. It also minimizes or eliminates the need for adhesive and won't be at risk for slipping out of place during a meal or conversation.
Want to know which choice is right for your smile? Give us a call so we can discuss the best option for you!
Learn More About Implant-Retained Dentures
Understanding the Cost of Dentures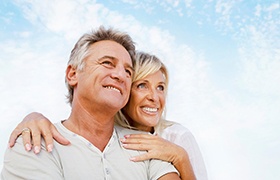 Looking for an affordable way to replace your missing teeth? With dentures, you can reclaim a full smile without busting your budget! There are many factors that affect the cost of dentures in DeLand. Dr. Cowell will provide you with an accurate cost estimate during an initial consultation. If you want to know more about the cost of dentures before you come visit, just keep reading below.
Factors That Affect the Cost of Dentures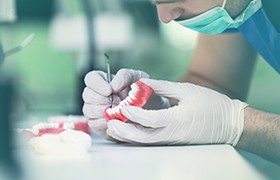 There are several factors that will influence the final price tag of your dentures:
If you need a preliminary treatment, such as tooth extractions or gum disease therapy
The materials used to create your denture (which can include porcelain or acrylic)
The number of teeth that need to be replaced
It's important to keep in mind that, when it comes to replacement teeth, cheaper does not usually mean better. Low-quality dentures may break easily or feel less comfortable in your mouth. In addition, you may end up having to replace cheap dentures much sooner than you had expected. You're going to use your dentures every day, so it's worthwhile to invest in a quality restoration.
Are Implant Dentures More Expensive?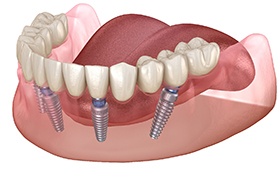 Yes, implant dentures are more expensive than traditional dentures in DeLand, at least initially. However, there are good reasons for this higher upfront cost. Implant dentures offer impressive benefits that set them apart from other restorations. For example, because dental implants integrate directly in the jawbone, implant dentures never slip or shift. They also appear more lifelike than traditional dentures and can restore nearly full chewing power. Moreover, with proper care, dental implants can easily last for 30 years or maybe even the rest of your life! Traditional dentures, on the other hand, typically must be replaced every five to seven years. Thanks to their long-lasting nature and many benefits, dental implants represent a wise long-term investment.
Does Dental Insurance Cover Dentures?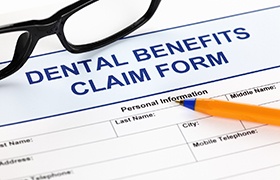 Yes, you can likely count on your dental insurance to cover around 50% of the cost of dentures in DeLand. Since every insurance plan is slightly different, be sure to confirm your coverage with your insurance provider before beginning restorative treatment. If you need assistance, our knowledgeable team will be happy to help you review the details of your insurance plan. We are dedicated to helping patients maximize their insurance benefits!
Other Options for Making Dentures Affordable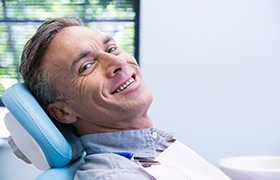 Even without insurance, there are a variety of ways to make dentures fit within your budget. For instance, qualified patients can sign up for flexible financing through CareCredit. This trusted financing partner offers low-to-no interest payment plans that can break up the cost of dentures in whatever way works best for you. With CareCredit, you can get the dental care you need without any surprise fees, unexpected charges, or prepayment penalties.
Schedule an initial consultation with Dr. Cowell, an experienced dentures dentist in DeLand, to learn more about the cost of dentures and the different payment options available.
Benefits of Dentures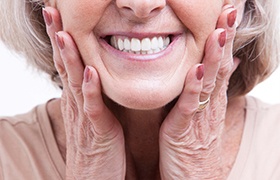 Losing multiple teeth can greatly affect your ability to perform everyday activities like eating, speaking clearly, and smiling confidently. Dentures in DeLand offer a transformative solution for patients missing several or all of their teeth, enhancing their quality of life. If you have experienced tooth loss, these oral prosthetics can give you a renewed grin and provide some incredible advantages. Click on the button below to learn more!
Psychological Benefits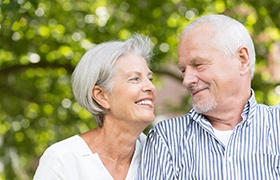 Tooth loss can be particularly challenging for edentulous people (those without teeth). It can impact their self-esteem and social interactions. Not only that, but it can also increase the risk of feelings of sadness and depression. As such, these negative feelings can lead to decreased participation in social activities.
By restoring the appearance and functionality of your smile with dentures, you can regain your confidence and self-esteem. Since dentures address concerns related to appearance, speech articulation, chewing ability, and more, you'll be able to engage more comfortably and confidently in social settings.
Clearer Enunciation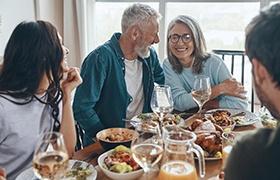 As you can imagine, missing teeth can pose challenges when it comes to speaking clearly. Your lips and tongue need to be positioned properly against the teeth to properly enunciate words. Without this contact, pronunciation can be difficult. Luckily, dentures serve as replacements for missing teeth, improving your speech. With a brief adjustment period and practice, speaking will eventually become more natural and clearer!
Improves Nutrition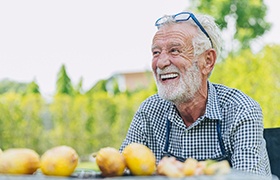 Having gaps in your smile can make it difficult to chew tough and nutritious foods, leading to potential problems such as indigestion and malnutrition. Dentures play a crucial role in improving chewing ability, enabling a broader range of food choices that are rich in nutrients. By facilitating proper chewing, dentures contribute to the body's ability to receive essential nutrients, promoting overall health and well-being.
Preserves Oral Health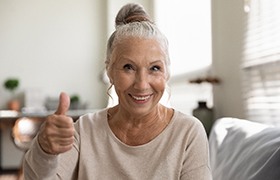 By getting dentures in DeLand, you can prevent the remaining natural teeth from shifting within your mouth. Because dentures distribute the chewing load, they help minimize the strain on your existing teeth, reducing wear and tear.
Expands Opportunity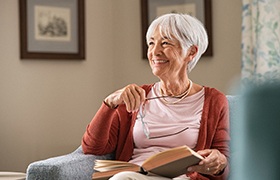 Your smile leaves a lasting impression, especially in important situations like job interviews and professional advancements. A complete and healthy smile can give you a competitive edge! In 2019, a study found a negative correlation between poor oral health and employment opportunities. By taking proper care of your smile, you can expect a positive impact on your professional prospects.
Denture Aftercare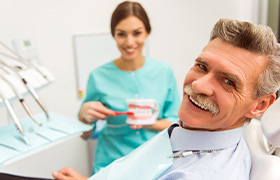 Dentures can (and will) restore your smile's looks and function. Given that fact, you might think they'll free you from dental care. In reality, however, even denture wearers must keep track of their oral health. Dentures, you see, need maintenance and a healthy mouth to work. The restorations will cause problems otherwise. Fortunately, Dr. Cowell is here with tips on caring for dentures. Please keep reading to learn them in detail, or call us at our office!
Removeable Dentures
Remove After Eating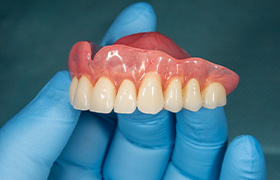 Crucially, you should remove and rinse your dentures after each meal. This habit will prevent food debris and plaque from sticking to the appliance. From there, your risk of oral health issues will decrease.
Whatever you do, don't use hot water for the rinses. Heat can warp the denture material, causing the prosthetic teeth not to fit your mouth.
---
Clean Your Restoration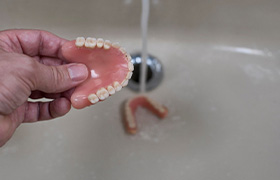 Besides post-meal rinses, dentures should also be given once-daily cleanings. These sessions reduce your odds of getting gum disease and similar problems.
Each cleaning needs to follow a series of steps. These include:
Remove the dentures from your mouth.
Brush the restorations with a soft-bristled toothbrush and hand soap. (Standard toothpaste is too abrasive for dentures.)
If you have time, briefly store the dentures in a glass of cleansing solution.
After rinsing the prosthetic teeth, place them back in your mouth.
---
Keep Your Dentures Safe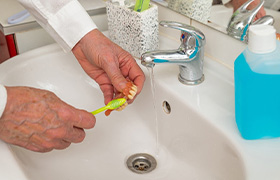 Unfortunately, dentures aren't invincible. They can break from accidents and injuries. As such, you'll need to keep them safe from harm.
There are various ways to protect dentures. For instance, you could keep a towel handy during cleanings. The item could cushion your dentures from falls. Similarly, you could also store the restorations away from kids or pets.
---
Remove Dentures When You Sleep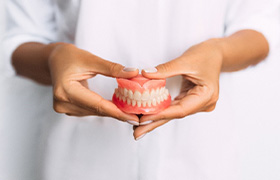 Dentures shouldn't be worn 24/7; they weren't designed for that. Instead, make sure to take them out before bed. In fact, store them in a glass of cleansing solution while you're at it. Doing so stops the restorations from losing their shape.
The problem is that overnight denture use risks your health. It restricts gum circulation, for one thing, which can trigger soft-tissue irritation. Wearing dentures to bed also increases your mouth's gum and tongue plaque levels. It'll even raise your risk of pneumonia.
---
Notice Changes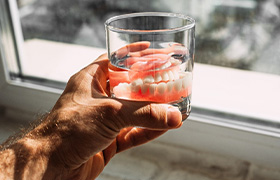 If possible, look out for harmful changes in your dentures and mouth. Such things should be addressed quickly by your local dental practice.
In particular, see your dentist when the dentures fit poorly or get damaged. Trying to fix things yourself will likely worsen the situation. A qualified dentist, though, can refit, reline, or even replace the prosthetics.
---
All-on-4 Dentures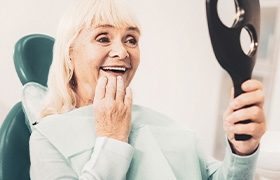 All-on-4 dentures use dental implants, so caring for them involves unique steps. Some of these are:
Twice-Daily Brushing – Brush your dentures twice daily with a soft-bristled toothbrush and a non-abrasive toothpaste. Also, ensure the toothpaste doesn't contain baking soda or stain-removing agents.
Once-Daily Flossing – Floss your replacement teeth once a day. Threaders could help you floss beneath your denture. Alternatively, use a water flosser to keep your restoration and implants clean.
Clean the Between Spaces – Use a sulcus brush to clean between the restoration and your gums. (After all, it's only one-third the width of normal toothbrushes.)
Daily Mouth Rinses – Rinse your mouth with mouthwash daily to prevent the growth of tartar.
Denture Frequently Asked Questions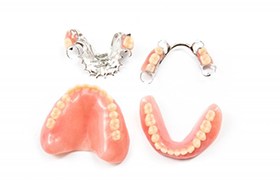 No matter how many teeth you're missing, dentures in DeLand can provide a comfortable and lifelike solution. However, you may be a bit apprehensive about going through with the treatment, or you may have some questions about the details of the process. Don't worry, we've taken the time to answer some of our most frequently asked questions about dentures down below for your benefit.
Can I Sleep in My Dentures?
While you can wear your dentures to bed, we highly recommend removing them at night. Doing so gives your gums and jawbone a chance to recover from the pressure of holding the dentures in place all day. Not to mention, you should never wear your dentures for a solid 24 hours without cleaning them in some way. Taking them out before bed gives you the perfect opportunity to let them soak during the night.
How Do I Clean My Dentures?
We suggest letting your dentures soak in either denture cleanser or water while you sleep. Only use cool or lukewarm water. Hot water could warp the shape of the dentures, resulting in them losing their comfortable fit. Every morning, before placing your dentures in your mouth, gently brush your gums, tongue, and palate with a soft-bristled toothbrush to stimulate blood flow and remove food debris and plaque. Also brush your dentures, but be sure to not use toothpaste since it could be abrasive.
Does Getting Dentures Hurt?
When you're first fitted with a new pair of dentures, you may experience some soreness in your gums, especially if you recently had one or more teeth extracted to make room for the dentures. The length of this discomfort may vary. If you've worn dentures before and are adjusting to a new set, it may take longer for your mouth to get used to your new teeth. For this reason, we strongly recommend visiting us your dentist in DeLand at regular intervals during the healing process to help you adjust and minimize your discomfort.
How Can I Get Used to Eating with Dentures?
It can take some time, usually a few weeks, to grow fully accustomed to eating with dentures. At first, it may help to cut your food into tiny, bite-sized chunks and gradually work your way up to larger sized bites. It also helps to chew evenly with both sides of your mouth. If you find your dentures slipping around while you eat, try applying a little denture adhesive before eating to keep them in place.
Do Upper Dentures Always Cover the Palate?
If you're worried about an upper denture diminishing the taste of foods, it's not an unusual concern. You can choose from palate-less options, which have a horseshoe shape, like a denture used for the lower arch or along with dental implants. Your dentist will review all your options for dentures in DeLand to find the best solution for your smile.
Do I Use Regular Toothpaste to Clean My Dentures?
Your dentures may look just like your real teeth, but they can't be cleaned the same way. Abrasive dental products can scratch them. Food particles, bacteria, and plaque can get trapped in the small crevasses, which can lead to discoloration, odors, and damage to the denture. Instead, use a soft-bristled toothbrush and a mild dishwashing liquid to clean them. You can also purchase OTC cleaning kits designed for denture wearers. Don't forget to soak your dentures every night to kill any bacteria left behind by your toothbrush.
Can I Still Eat Steak with Dentures?
It's entirely possible to eat steak, but your denture dentist in DeLand will advise against it. Tough meat can be difficult to chew, which can cause sore gums and jaw pain. It will also put more wear and tear on your denture, causing you to need a replacement sooner. If you can't resist a juicy steak occasionally, tenderize it before cooking it. Cut it into small pieces to make it easier to chew. You may also find a denture adhesive helpful for added stability.
Is a Broken Denture a Dental Emergency?
You rely on your dentures to get you through your day. You can't go without your teeth. A broken denture is a dental emergency. It's best to stop wearing it and use an older denture until your appointment. Don't try to fix it on your own. Instead, leave the mending to professionals. We will get you into the office quickly for the necessary repairs or replacements.
Can I Use Superglue to Fix a Broken Denture?
Superglue is handy to have around the home for minor repairs, but it's best not to use it on your dentures. It can contain toxic chemicals or cause allergic reactions. Not to mention, superglue doesn't hold up well in moist environments like your mouth, so the fix won't last for too long. Skip the DIY hacks and contact our office .
Why Do My Dentures Stink?
Bacteria is the cause of stinky dentures. Keeping your denture clean can prevent odors. Clean your denture after eating and soak it nightly. Drink plenty of water throughout the day to keep your mouth moist to combat bacteria growth. It will also cleanse your dentures to keep odors at bay. Besides caring for your denture at home, don't forget to visit your dentist regularly for a checkup. They can remove any buildup you might have missed at home to keep your dentures looking and smelling their best.