All-on-4 Dental Implants– DeLand, FL
A Reliable, Lasting Set of Replacement Teeth
When you're missing all of your teeth on an arch, you don't have to get each individual tooth replaced with its own dental implant. Instead, Dr. Christopher Cowell can secure a full denture onto just four strategically placed implants thanks to All-on-4 dental implants in DeLand, FL. With All-on-4, you can enjoy a complete, healthy smile again without worrying about slipping like you would with regular dentures. Plus, you might be able to receive your new pearly whites on the same day as your dental implant placement! To learn more about the life-changing benefits of All-on-4, please contact us to schedule your consultation!
Why Choose Christopher J. Cowell, DMD for All-on-4 Dental Implants?
Partnered with the Best Local Dental Implant Specialists
Advanced Dental Technology for Precise Treatment Planning
Affordable Prices with Flexible Dental Financing Available
How Do All-on-4 Dental Implants Work?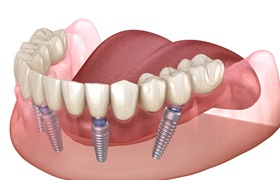 Dental implants are the most lifelike and comprehensive tooth replacement available to date. However, they require a strong jawbone in order to succeed. Ordinarily, patients seeking dental implants would have to undergo a bone grafting procedure to strengthen their jawbone, which could add several months to your treatment timeline. Thanks to All-on-4, that is no longer the case.
Am I a Candidate for All-on-4 Dental Implants?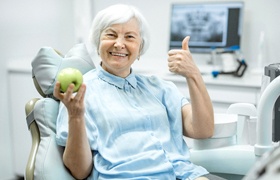 If you're an adult who has lost all or most of your teeth on your upper and/or lower arch, then you're most likely a good candidate for All-on-4 implants. Even if you've been told that you can't receive traditional dental implants in DeLand without a bone graft, you might still be eligible for All-on-4.
To ensure that your new teeth last, you must also be in good oral health and be willing to keep up with a daily oral hygiene routine. You should also avoid certain lifestyle habits, such as tobacco use, that could increase the risk of dental implant failure.
Benefits of All-on-4 Dental Implants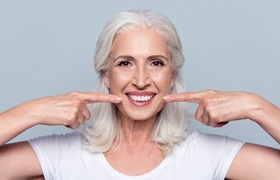 Compared to conventional dentures, All-on-4 provides countless benefits, including:
Your prosthetic will stay in your mouth, eliminating the need to take it out for cleaning. Instead, you can brush and floss your new teeth as if they were the ones you were born with. As a result, your risk for gum disease and other oral health problems decreases significantly.
The implants will stimulate your jawbone, preventing the deterioration that normally occurs after tooth loss. Not only does this lead to better oral health, but it also helps you maintain a younger appearance.
Your chewing power will be greatly restored, allowing you to enjoy a variety of delicious, nutritious foods.
Your new pearly whites will look and feel 100% natural.
All-on-4 vs. Traditional Dental Implants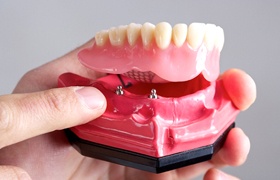 All-on-4 may not seem all that different from a traditional implant denture, but there are a few key differences that make All-on-4 the better choice for many patients. For example:
Securing an implant denture can require as many as eight implants in some cases. Because All-on-4 only requires four, it results in lower overall treatment costs.
More often than not, patients don't need bone grafting before getting All-on-4, while they would with traditional implants. Bone grafting can lengthen your treatment process by months, meaning you have to wait even longer without teeth.
There's a good chance you can receive a personalized denture on the same day that your All-on-4 implants are placed.