Periodontal Therapy Protecting DeLand Smiles
Oral Health Prevention at the Source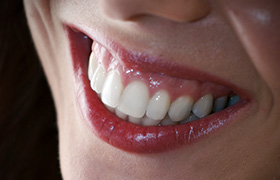 Did you know that the most common dental problem in the entire world is actually periodontal disease? It's true! The Centers for Disease Control estimate that nearly 50% of ALL U.S. adults currently have some form of the infection right now. Early symptoms include red and swollen gums, but it can eventually lead to tooth loss, and it has also been shown to drastically increase a person's chances of developing other systemic health problems, such as diabetes, heart disease, and dementia.
This is why Dr. Cowell and our team will screen your gums every time you come to see us. If we spot a problem, we'll use periodontal therapy consisting of scaling and root planing to take care of it.
For scaling, a member of our team will use an ultrasonic cleaner to remove plaque, tartar, and bacteria that has accumulated below your gum line. Then, we'll use root planing to gently smooth out the rough surfaces of your teeth's roots. This will prevent plaque from gathering on them in the future, lowering your chances of redeveloping gum disease.
Do your gums look red or bleed every time you brush? If so, then you may already have periodontal disease, so be sure to contact us to get the treatment you need today!