Periodontal Therapy – DeLand, FL
Protecting Your Oral and Overall Health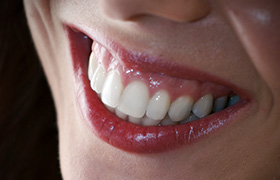 Did you know that periodontal disease is one of the most common dental problems in the entire world? It's true! The Centers for Disease Control estimate that nearly 50% of all U.S. adults currently have some form of the infection right now. Of course, just because something is common does not mean it isn't dangerous. Left untreated, periodontal disease can lead to devastating consequences. On this page, we discuss what gum disease is, why periodontal therapy in DeLand, FL is so important, and how your dentist in DeLand can help you fight it.
What Is Periodontal Disease?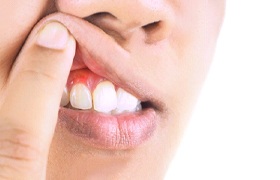 Periodontal disease, which is also commonly known as gum disease, is inflammation of the gum tissue. When plaque and bacteria sneak into the tiny spaces between the gums and the teeth, it irritates the gum tissue and leads to a range of symptoms.
In most cases, missteps in oral hygiene are the main culprit behind periodontal disease. However, many other factors can contribute to this condition. Genetics, smoking, a poor diet, and diabetes can all play a role in causing or worsening periodontal disease.
Why Treatment Is So Important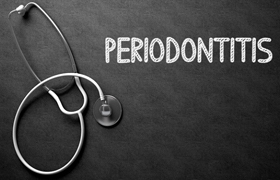 There are two stages of gum disease:
Gingivitis: This is the earliest form of gum disease. Symptoms are usually mild and include red, tender, and swollen gums. At this point, no permanent damage to the gums or bones have occurred. If you suspect you have gingivitis, you should visit our team right away so we can stop the problem before it worsens.
Periodontitis: Left untreated, gingivitis can progress to periodontitis. Symptoms include persistent bad breath, gum recession, and loose teeth. In some cases, periodontitis can cause the teeth to fall out altogether.
Untreated gum disease can do much more than just damage your smile. It has also been shown to drastically increase a person's chances of developing a number of systemic health problems, such as heart disease and dementia. Such issues may occur when the bacteria that causes gum disease sneaks into the bloodstream and travels to other bodily systems.
Fighting Periodontal Disease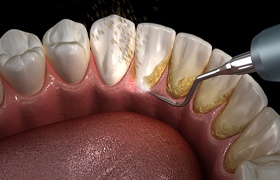 Dr. Cowell and our team will screen your gums every time you come to see us. We will check for recession and any other signs of infection. If we spot a problem, we might be able to help you regain your gum health via a few adjustments to your oral hygiene routine. For example, switching to a different mouthwash or changing the way you brush and floss could go a long way toward protecting your gums.
We might also recommend that you undergo a procedure known as scaling and root planing, a form of gum disease therapy in DeLand. For scaling, a member of our team will use an ultrasonic cleaner to remove plaque, tartar, and bacteria that has accumulated below your gum line. Then, we'll use root planing to gently smooth out the rough surfaces of your teeth's roots. This will prevent plaque from gathering on them in the future, lowering your chances of redeveloping gum disease.
Do your gums look red or bleed every time you brush? If so, then you may already have periodontal disease, so be sure to contact us to get the treatment you need as soon as possible!