Teeth Whitening - DeLand, FL
Brighter, Whiter Smiles That Last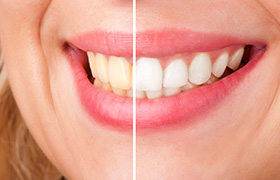 After spending a little extra time in the mirror this morning, you finally have to admit that your teeth are noticeably stained. White teeth are a powerful signifier in today's society, and if you're looking to turn back the clock for your smile, Dr. Cowell can help you do it in the most effective and safe way possible.

Our dental office is proud to offer take-home professional teeth whitening in DeLand, FL with Zoom! and Ultradent. With these we can give you your own custom-made kit so you can whiten while you surf the web or watch your favorite show. These are proven to deliver dramatic results, and they'll make you more than eager to show off your pristine smile.

We can help you find out today, so contact us for an appointment.
Zoom! Teeth Whitening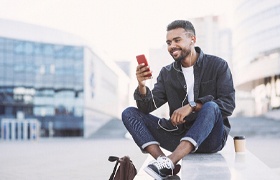 Are you looking for a fast, trusted, and effective teeth whitening treatment in DeLand? We offer take-home kits that are equipped with tested and highly-concentrated teeth whitening ingredients to provide you with a brighter smile. The Zoom! Teeth Whitening System that we use is completely safe for your smile and is even customizable to help you achieve your unique desired results.
Teeth Whitening Frequently Asked Questions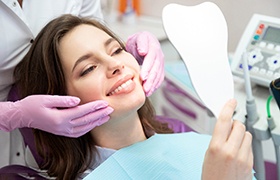 If you're looking to enhance your smile, teeth whitening may be the quick, affordable option you've been looking for. However, you may still have some unanswered questions about the treatment. Here are some of the most common inquiries we're asked about teeth whitening in DeLand. If you don't see the information that you're looking for below, give us a call! We'd be happy to answer your questions and schedule you an appointment.
Does Teeth Whitening Hurt?
Many patients are hesitant to commit to dental procedures, including teeth whitening, because they are worried that the treatment will hurt. Since professional teeth whitening is entirely custom, you are much less likely to experience tooth sensitivity. If your teeth tend to be more prone to sensitivity, let us know so we can do our best to prevent this! By spacing out treatments, avoiding hot beverages, and using a special toothpaste, this unpleasant sensation can be avoided.
Does Teeth Whitening Damage Enamel?
Professional teeth whitening does not damage healthy tooth enamel. However, if your teeth are compromised by decay, gum disease, or another oral health issue, the chemicals can cause further problems. This is why it is so important that you undergo a comprehensive dental exam beforehand. Additional damage can also occur from at-home remedies, like using activated charcoal and hydrogen peroxide to address discoloration. Overuse of whitening products can wear away your enamel as well. If you want to whiten your teeth, you should always consult with your dentist ahead of time. Your oral health is and should always be the number one priority!
Does Teeth Whitening Work on Dental Crowns?
Dental crowns cannot be whitened like your natural teeth can. Fortunately, you can prevent your dental crowns from becoming discolored by implementing excellent oral hygiene practices, staying away from dark colored beverages, and refraining from smoking. If you are unhappy with the shade of your dental crown, it can be replaced to better suit your smile goals.
Is Teeth Whitening Permanent?
No, teeth whitening is not a permanent cosmetic treatment. Results will typically last anywhere from a couple months to a few years depending on how well they are cared for. In order to prolong your results, you should implement a solid at-home oral hygiene routine, attend your regular cleanings and checkups, and avoid poor dental habits. Touch-up treatments are available to maintain the beautiful, pearly white results!