Dental Implant-Retained Dentures – DeLand, FL
Restore Your Smile Without Irritation or Slipping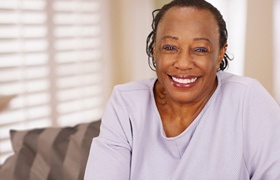 Missing several or all your teeth can impact your health and quality of life. Not only do multiple gaps in your smile make it more difficult to eat and smile confidently, but you also have a higher risk of developing oral health issues like gum disease. Thankfully, dentures aren't the only way to replace missing teeth anymore. Dr. Christopher Cowell can restore your smile with irritation or slipping caused by removable restorations with the help of dental implant-retained dentures in DeLand, FL. If you're interested in permanently rebuilding your smile, give us a call today to schedule your consultation!
Why Choose Christopher J. Cowell, DMD for Dental Implant-Retained Dentures?
Works with a Team of Local Dental Implant Experts
Dentist with 20+ Years of Experience
Fair Fees with No Surprises
What Are Dental Implant-Retained Dentures?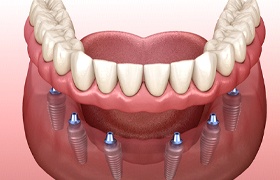 Traditional dentures rely on their close fit and the natural suction it creates to stay in place. While convenient, this means that they have limited function and can feel loose as your mouth changes. On the other hand, implant dentures can be securely anchored into place as a more comfortable and lifelike solution for missing teeth. This method utilizes strategically placed dental implants in DeLand to replace your pearly whites both above and below the gumline. Not only does this offer an unmatched rock-solid foundation for your new arch of teeth, but it stimulates blood flow in the jawbone to prevent deterioration.
Fixed/Permanent Implant Dentures
A fixed implant denture can only be removed by a dentist, making it the closest thing to your natural teeth. Typically, four to six dental implants are strategically placed throughout the jaw. Then, the denture is held in place with metal attachments on top of the implants called abutments.
Removable Implant Dentures
Also known as overdentures, removable implant dentures can be taken out before bed and for cleaning, just like traditional dentures. If you're used to traditional dentures, this option allows you to stick to your usual hygiene routine. It often requires fewer implants (between two and five) and uses ball sockets or clips to snap the denture into place.
The Dental Implant-Retained Denture Procedure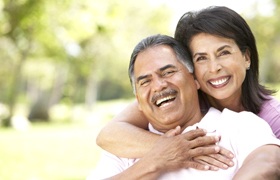 Unlike traditional dentures, getting implant dentures is a multistep process that takes several months to a year, but the benefits are well worth the wait!
Once we've completed any preliminary procedures and your implant dentist in DeLand has confirmed that you're a good candidate for implant dentures, you'll have your implant surgery. We work with local specialists to ensure that this important step in your journey towards a new smile goes as smoothly as possible. Once the implants have been placed, they'll begin to fuse with your jawbone over the next several months.
As you heal, we'll create your custom, lifelike restoration. Once it's finished, you'll return to our dental office for the final placement. We'll make sure that it fits properly and feels comfortable, and then you'll be ready to enjoy your new implant denture!
Am I a Candidate for Dental Implant-Retained Dentures?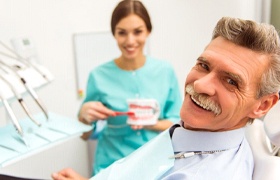 Implant dentures may be an excellent choice for you if:
You're missing all or most of your teeth.
Your jawbone is strong enough to support dental implants.
You don't have gum disease or any other major oral health issue.
You're in fair overall health and can undergo minor surgery.
You don't smoke or chew tobacco.
Even if you're not an "ideal candidate" for dental implants, we encourage you to come visit us for a consultation anyways. With some preliminary treatments and a few extra precautions, you may still be able to permanently replace your missing teeth.
Benefits of Combining Dentures & Dental Implants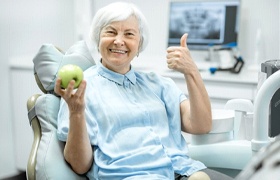 With all the unique benefits that come along with replacing missing teeth with an implant restoration like a denture, it's easy to see why dental implants are so popular. They offer a wide range of advantages, such as:
A permanent solution for missing teeth.
Can be cared for just as easily as natural teeth.
Stimulates circulation in the jawbone to prevent deterioration.
Restores 70% or more of your biting force.
Looks and feels incredibly natural.
Dental Implant-Retained Denture Frequently Asked Questions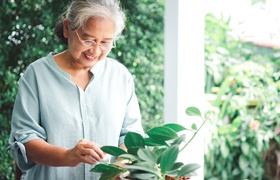 Would you like to learn more about how implant dentures in DeLand could change your daily life by revitalizing your smile? Our team at Christopher J. Cowell, DMD is here to help. Below, we've compiled some of the most common questions that we receive about this procedure. If you don't find the information you're looking for, feel free to reach out to us directly.
Why would I need a bone graft to get implant dentures?
Not every patient needs to have a bone graft before they can undergo dental implant surgery. However, in cases where a patient has sustained jawbone loss due to the fact that their tooth's roots are no longer stimulating the structure, a bone graft may be necessary. The dental implants must have a strong jawbone to fuse to, or else the treatment won't be successful.
During a bone graft procedure, a small portion of bone from another area of your body will be grafted onto your jawbone. The recovery time can take several months, but after you heal, you'll be able to move forward with your implant treatment.
How long do implant dentures last?
Dental implants have been shown to last over 35 years with the proper maintenance, which is over four times as long as the lifespan of traditional restorations! Not only does this save you money, but also time by helping you avoid regular visits to have your prosthetics repaired and replaced. The key to this long lifespan is to regularly brush and floss your teeth, visit Dr. Cowell every six months for a checkup and cleaning, and maintain good at-home oral hygiene.
I've had a traditional denture for years. Can I still get an implant denture?
Many of our patients choose to get implant dentures in DeLand after living with their traditional dentures for years. As you age with your prosthetic, you may notice oral sores, frequent slipping and shifting, and other symptoms that let you know that the shape of your oral cavity is changing and you're due to have your dentures relined or replaced. The short lifespan of about seven years for traditional dentures pales in comparison to implant dentures, which can last for several decades or even a lifetime. The best part is, they'll continue to stimulate your jawbone, helping you maintain the shape of your face and density of your bone, resulting in fewer visits to our dental office.
Can dental implants support a partial denture?
Yes! Dental implants can be used to replace one or several teeth, but the number of implants that you'll need to have placed depends on where the gaps are located in your smile. Even if you're missing several teeth along an arch, we can use implant crowns and bridges to fill the spaces and restore your arch of teeth so it's fully functional.