Implant Dentures – DeLand, FL
Restore Your Smile Without Irritation or Slipping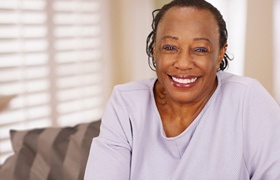 Missing several or all your teeth can impact your health and quality of life. Not only do multiple gaps in your smile make it more difficult to eat and smile confidently, but you also have a higher risk of developing oral health issues like gum disease. Thankfully, dentures aren't the only way to replace missing teeth anymore. Dr. Christopher Cowell can restore your smile with irritation or slipping caused by removable restorations with the help of implant dentures in DeLand. If you're interested in permanently rebuilding your smile, give us a call today to schedule your consultation!
Why Choose Christopher J. Cowell, DMD for Implant Dentures?
Works with a Team of Local Dental Implant Experts
Dentist with 20+ Years of Experience
Fair Fees with No Surprises
What Are Implant Dentures?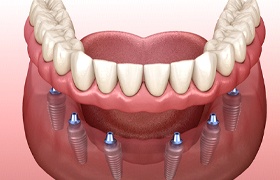 Traditional dentures rely on their close fit and the natural suction it creates to stay in place. While convenient, this means that they have limited function and can feel loose as your mouth changes. On the other hand, implant dentures can be securely anchored into place as a more comfortable and lifelike solution for missing teeth. This method utilizes strategically placed dental implants in DeLand to replace your pearly whites both above and below the gumline. Not only does this offer an unmatched rock-solid foundation for your new arch of teeth, but it stimulates blood flow in the jawbone to prevent deterioration.
Fixed/Permanent Implant Dentures
A fixed implant denture can only be removed by a dentist, making it the closest thing to your natural teeth. Typically, four to six dental implants are strategically placed throughout the jaw. Then, the denture is held in place with metal attachments on top of the implants called abutments.
Removable Implant Dentures
Also known as overdentures, removable implant dentures can be taken out before bed and for cleaning, just like traditional dentures. If you're used to traditional dentures, this option allows you to stick to your usual hygiene routine. It often requires fewer implants (between two and five) and uses ball sockets or clips to snap the denture into place.
The Implant Denture Procedure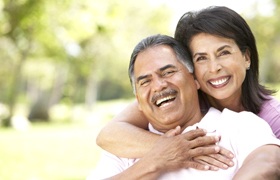 Unlike traditional dentures, getting implant dentures is a multistep process that takes several months to a year, but the benefits are well worth the wait!
Once we've completed any preliminary procedures and your implant dentist in DeLand has confirmed that you're a good candidate for implant dentures, you'll have your implant surgery. We work with local specialists to ensure that this important step in your journey towards a new smile goes as smoothly as possible. Once the implants have been placed, they'll begin to fuse with your jawbone over the next several months.
As you heal, we'll create your custom, lifelike restoration. Once it's finished, you'll return to our office for the final placement. We'll make sure that it fits properly and feels comfortable, and then you'll be ready to enjoy your new implant denture!
Am I a Candidate for Implant Dentures?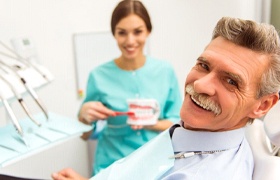 Implant dentures may be an excellent choice for you if:
You're missing all or most of your teeth.
Your jawbone is strong enough to support dental implants.
You don't have gum disease or any other major oral health issue.
You're in fair overall health and can undergo minor surgery.
You don't smoke or chew tobacco.
Even if you're not an "ideal candidate" for dental implants, we encourage you to come visit us for a consultation anyways. With some preliminary treatments and a few extra precautions, you may still be able to permanently replace your missing teeth.
Benefits of Combining Dentures & Dental Implants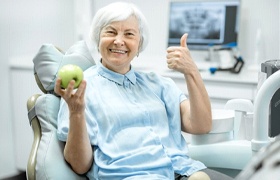 With all the unique benefits that come along with replacing missing teeth with an implant restoration like a denture, it's easy to see why dental implants are so popular. They offer a wide range of advantages, such as:
A permanent solution for missing teeth.
Can be cared for just as easily as natural teeth.
Stimulates circulation in the jawbone to prevent deterioration.
Restores 70% or more of your biting force.
Looks and feels incredibly natural.