Dental Checkups and Teeth Cleanings – Deland, FL
Make Your Pearly Whites Shine and Sparkle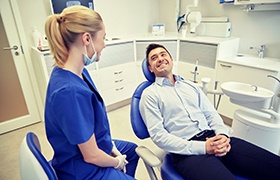 Many people freeze up in fear at the idea of getting their teeth cleaned, but as Dr. Cowell and the rest of our team will tell you, there is absolutely nothing to fear about visiting the dentist. In fact, only good things can come from attending a checkup and cleaning every six months. Keep reading below to learn all about the benefits of regular dental appointments. And, if it has been more than half a year since your last one, give us a call today to set up dental checkups and teeth cleanings in DeLand, FL!
What Happens During a Dental Checkup?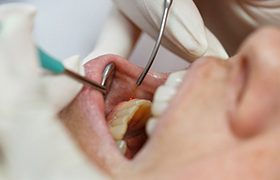 During the first portion of your appointment, we'll examine the muscles in your head and neck, your gums, each tooth, any existing dental work, and your jaw using both a visual exam and X-rays as necessary. This typically takes about an hour, and we use all the information we gather to formulate a custom-made treatment plan for every patient.
Why X-Rays Are Important and Safe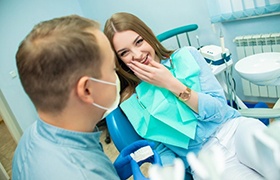 You might be concerned about being exposed to radiation during dental x-rays, but the truth is that the level of radiation they contain is so low that x-rays are deemed safe for children and adults alike. To lower your risk of radiation exposure even further, your dentist in Deland will place a lead "bib" over your chest and abdomen to avoid radiation to your vital organs. Dental x-rays may not be safe for pregnant women, so if you are pregnant, please let us know so we can adjust your treatment accordingly.
Even Dr. Cowell's trained eyes can't detect every little problem that may exist within your mouth. That's why we use dental x-rays. They allow us to diagnose issues that can't be seen with the naked eye, such as decay between the teeth or problems with the jawbone. We highly recommend getting x-rays taken at least once a year, or more often if you have a history of poor oral health.
What Happens During a Dental Cleaning?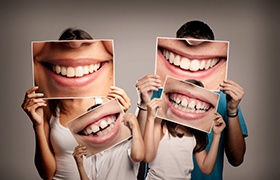 After your checkup is complete, you'll be handed off to one of our dental hygienists for a teeth cleaning to make your pearly whites shine and sparkle. The hygienist will use special tools to remove plaque and tartar (which build up when you neglect to brush and floss) from each and every one of your teeth and along your gumline. You can get rid of plaque on your own through your regular oral hygiene routine, but once it hardens into tartar, only a dental professional can remove it.
Once your teeth are sufficiently plaque- and tartar-free, the hygienist will use a high-powered toothbrush and floss to thoroughly clean your teeth. They will also polish your teeth with a special paste that not only removes surface stains, but makes it more difficult for bacteria to build up on your teeth in the future. Lastly, we can apply a topical varnish of fluoride, which strengthens your teeth and greatly reduces your risk of developing tooth decay.
Why Regular Dental Checkups Are Crucial to Your Overall Health
While you might recover from certain medical conditions over time, dental health problems typically worsen the longer you put off treatment. Additionally, many of them don't display noticeable symptoms like discomfort until serious damage has already been done. For this reason, it's important to visit us often so that Dr. Cowell can diagnose any problems early on.
In the grand scheme of things, regular cleanings are just as important. High levels of plaque and tartar contribute to issues like gum disease and tooth decay. If you don't attend your cleanings at least biannually, plaque and tartar buildup can seriously harm your teeth and gums, eventually leading to tooth loss. Gum disease in particular has even been linked to other health issues, like diabetes and heart disease. In that case, seeing your dentist regularly could even save your life!