July 24, 2019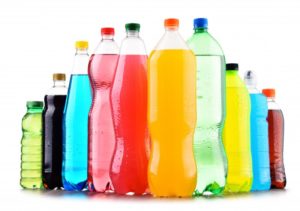 We all know that we're supposed to brush and floss in order to take good care of your teeth. We also know that staying away from candy is good for our teeth. But did you know there are other foods you should avoid in order to keep your teeth in good shape? A dentist near DeBary is here to talk about 8 foods and drinks that are awful for your pearly whites.
1. Carbonated Drinks
Most of us know that even if a soda has the word "diet" in front of it, it's still not healthy. Carbonated sodas allow bacteria in plaque to create more acid that eats away at your enamel. By drinking soda all day, you're basically coating your teeth in acid. In addition, dark-colored sodas can stain your teeth over time.
2. Alcohol
We all know that alcohol isn't exactly healthy, but it's actually detrimental to your teeth. It dries out your mouth and inhibits the production of saliva, which is essential in washing away bits of food that can cause plaque to build up. Be sure to stay hydrated if you're going to drink. A good rule of thumb is to consume one glass of water with every alcoholic drink.
3. Ice
Chewing on ice might be a great way to cool down during the hot summer months, but it can wreak havoc on your teeth. It can make you more likely to get dental emergencies like a broken tooth. To stay cool this summer, chill your drinks with ice, but don't chew on it.
4. Sour Candy
Candy is obviously bad for your teeth, but sour candy is a whole other story. It contains even more acids that can damage your teeth. Because they are sticky, these acids stay attached to your teeth longer, increasing your risk of developing cavities. If you find yourself craving sweets, opt for a chocolate bar instead. It has no sour acid and can be washed away much more easily.
5. Bread
The starches in bread become a sugary paste-like substance when you chew them. This material can easily get stuck in between teeth, attracting plaque that cause cavities. Choose to eat bread with less added sugar, such as bread made from whole wheat.
6. Potato Chips
The crunch of chips may be satisfying, but not so much for your tooth enamel. It can cause your teeth to become chipped, cracked, or even broken. Like bread, however, chips are chock full of starches that can get trapped between the teeth. Floss after you eat chips to remove these particles that can result in cavities.
7. Citrus
Fruits like oranges, lemons, and grapefruits taste great and are packed with vitamin C. However, even when they are in juice form, they are high in acid that can erode enamel. If you want to still get your recommended dose of vitamin C, eat and drink citrus fruits and their juices in moderation, and rinse your mouth with water afterward.
8. Dried Fruits
Many dried fruits are full of sugar. They are also sticky, meaning they can get trapped in the crevices of the teeth and cause decay. If you still want to eat dried fruits, rinse your mouth with a glass of water afterward to prevent this sugar from sticking.
Now you know that it takes a lot more than brushing and flossing to maintain a healthy mouth. You don't have to completely cut the foods listed above out of your life. Just be sure to eat them in moderation. In addition, be sure to visit your dentist near DeBary every six months for regular checkups and cleanings.
About the Author
Dr. Christopher Cowell has been practicing dentistry near DeBary for two decades now. He believes that building relationships with his patients is essential in getting them the right treatment they need. To start building your relationship with Dr. Cowell, contact him at (386)-734-8585.
Comments Off

on 8 Foods That Are Bad for Your Teeth, According to Your Dentist Near DeBary
No Comments
No comments yet.
RSS feed for comments on this post.
Sorry, the comment form is closed at this time.