Emergency Dentist – DeLand, FL
Expert Care Right When You Need It
If you or a loved one suddenly find yourselves in need of immediate dental care due to a knocked-out tooth, severe toothache, or damaged piece of dental work, you can always turn to Dr. Cowell to get the help you need. We're ready to accept emergency patients and do whatever we can to relieve their pain and repair their smiles as fast as we can. You can never plan for an emergency, but with us, you can have the peace of mind that you'll be well taken care of should one ever occur. We do our best to fit urgent patients into our schedule during their time of need.
Experience & Qualifications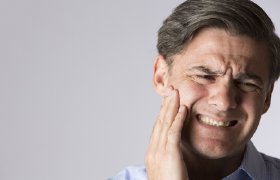 With over 20 years of experience in dentistry, Dr. Cowell has pretty much seen and done it all when it comes to dental emergencies! He's just the person you want to see during a stressful situation. In our practice, he also utilizes the latest technology so he's able to find, diagnose, and treat problems as quickly as possible, which is especially useful during an emergency situation. He works to not only get a patient out of pain, but also ensure that their emergency won't pop up again later.
Same-Day Convenience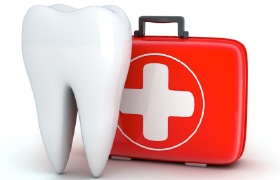 Many people facing a dental crisis are tempted to visit their local emergency room, but they typically end up waiting for hours before they are ever seen. In most cases, they're sent to a dentist in DeLand anyway! When you need dental care NOW, the best thing for you to do is simply call our office. We'll get you in as fast as possible, preferably the same day, so we can help you return to normal life without making you spend hours in a waiting room.
How to Handle Common Dental Emergencies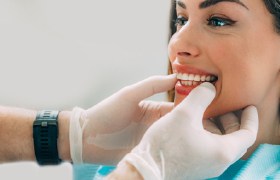 There are two main types of dental emergencies: infections that occur over time from poor oral healthcare and sudden physical injuries. Our expert dental team can treat both, but in the meantime, use these tips on how to handle common dental emergencies:
Toothaches
If you're experiencing pain in a tooth, try flossing around the area to make sure it's not an object stuck in between your teeth. If your pain persists, you may have decay or an infection that requires a root canal. Contact our office right away to get treatment before your potential infection spreads.
Chipped/Broken Tooth
If you chip or crack your tooth, apply gauze to the affected area to stop bleeding. Try to pick up any pieces of your tooth that you can and call our office. Dr. Cowell, an expert emergency dentist in DeLand, will examine your tooth to see if it can be fixed. If it's too damaged or fractured, he may need to extract it altogether.
Knocked-Out Tooth
A knocked-out tooth can be traumatic, but there's a chance that it can be replanted. Pick your tooth up by the crown and rinse it off. Then, try to place it back in your socket, holding it steady with your tongue. If this isn't possible, keep your tooth in milk or water to keep it moist until you can visit our office.
Lost Filling/Crown
Losing a filling or crown can be painful because it exposes the sensitive inner portion of your tooth. You can use dental cement found at your local drugstore to reattach your crown or even sugarless gum to cover up the affected area. After you've made yourself more comfortable, contact our office for treatment.
How to Prevent Dental Emergencies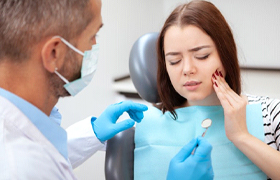 While dental emergencies are impossible to prevent completely, there are some steps that you can take to minimize your chances of their occurring. After all, dental emergencies are stressful and difficult to deal with, so the best strategy is to avoid them in the first place. Fortunately, protecting your teeth and gums from harm is fairly straightforward. Here are a few simple tips to help you prevent dental emergencies in DeLand:
Visit Your Dentist Regularly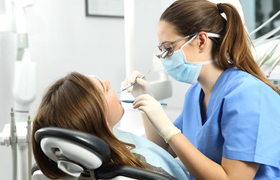 The benefits of routine checkups and cleanings are twofold – not only can a dental hygienist clear away plaque that causes oral health problems, but Dr. Cowell can also spot and treat potential emergencies early on. For example, a small cavity that you may not have even noticed can be treated with a filling now, rather than waiting until it causes pain and requires a more extensive procedure like a root canal later.
Maintain Good Oral Hygiene at Home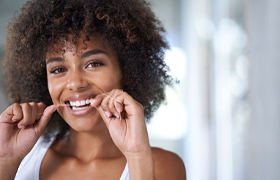 Brushing, flossing, and rinsing with mouthwash on a daily basis can go a long way in preventing the need to visit our emergency dental office in DeLand. Without these habits, dangerous bacteria can build up in your mouth and lead to painful infections that warrant invasive, expensive treatments. When it comes to dental care, an ounce of prevention is truly worth a pound of cure!
Stick to a Nutritious Diet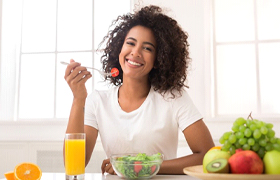 Sugars and other carbohydrates provide fuel for destructive bacteria in your mouth that can erode tooth enamel and inflame your gums. By reducing your sugar intake and incorporating plenty of fresh fruits and vegetables into your diet, you'll greatly decrease the risk that these bacteria will wreak havoc on your smile.
Wear a Mouthguard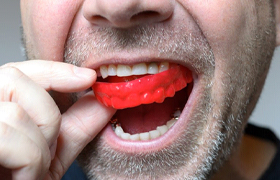 If you play sports, you already know the importance of wearing a helmet. But do you also wear protective gear for your teeth? Dr. Cowell can fit you with a professional-grade mouthguard to shield your pearly whites from injury due to impact.
Similarly, you should also protect your teeth if you have bruxism, a condition where you habitually grind your teeth while sleeping. The constant force of grinding can wear down your enamel, leaving your teeth more susceptible to sensitivity and decay. Luckily, we offer custom-made nightguards.
Use Tools, Not Your Teeth, to Open Packages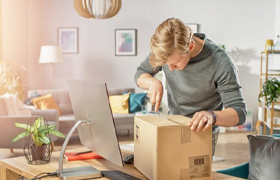 When you get a package you've been looking forward to, it can be all too easy to tear it open with your teeth. However, doing so could seriously break a tooth. Instead, reach for the right tool for the job, such as a knife or box cutter.
The Cost of Treating Dental Emergencies
Because there are so many factors that play a role in the cost of dental emergencies, it's hard to provide an exact estimate. Some emergencies can be treated by simply giving you antibiotics, while others may require more extensive procedures. Dr. Cowell does his absolute best to provide patients with dentistry that is both quality and affordable. If you have an emergency or a dental issue, contact our office to receive an in-depth examination. He will then be able to recommend a proper treatment plan as well as a precise estimate of cost.
Learn More About Cost of Dental Emergencies
Tooth Extractions
While removing a tooth is never our first choice, sometimes it's the best thing we can do to protect a patient's oral and overall health. We may recommend an emergency extraction if:
A tooth is too decayed to be repaired
A tooth is so broken that it cannot be restored
Advanced periodontal disease has damaged the bone supporting a tooth
Decay in one tooth is starting to affect those around it
Should you ever need an extraction, Dr. Cowell will use his expert touch and plenty of local anesthetic to ensure you are comfortable the entire time. Call us today to request an appointment for any dental issue that you may have.
Emergency Dentistry FAQs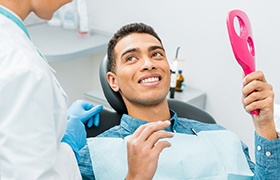 Are you in the midst of a dental emergency and aren't sure what to do? When you contact our office, we'll immediately provide you with first-aid guidance and over-the-phone advice to help relieve your pain. We've also answered some common questions below for your convenience.
Will my toothache go away on its own?
Unfortunately, toothaches rarely, if ever, go away on their own. Although many people want to put off addressing their pain in hopes that they can avoid an unexpected visit with their emergency dentist in DeLand, it can often result in additional oral damage. That's why we recommend visiting our office as soon as possible, to avoid the need for invasive treatment.
If your tooth does go numb after severely aching, this could be a sign that the root is dead and you may require a more serious treatment. The only way to tell is to receive an emergency examination.
How can I get rid of dental pain at home?
The first step you should always take if you're experiencing oral pain or any out-of-the-ordinary symptoms is to contact our office. Until you're able to get to our practice for your appointment, you can take over-the-counter pain medication such as ibuprofen to help you feel more comfortable. It's best to avoid aspirin, because if your pain is caused by an infection, it could burn your gums if the medication comes into contact with the tissue.
Will the COVID-19 crisis impact my dental emergency appointment?
If you have a dental emergency during the COVID-19 pandemic, our team will work quickly and efficiently to get you into a treatment room while prioritizing your health. We'll escort you directly back and take X-rays and conduct an examination of your mouth. You'll notice that our team will be wearing masks, gloves, eye protection, and other PPE to reduce the spread of droplets from saliva while talking and treating your mouth. Otherwise, you'll still receive the same fast and individualized emergency treatment as usual.
Should I go to the ER instead of an emergency dentist?
Typically, ERs don't have dental specialists on staff, which can keep you from getting the long-term treatment that you need to cure your pain. That's why it's often better to visit your emergency dentist in DeLand instead. That being said, there are certain situations in which you may require emergency medical care before you're able to address any dental problems. These include a broken or fractured jaw, deep facial laceration caused by forced trauma, or any issue that impacts your ability to easily breathe or swallow. Otherwise, you'll likely be better off visiting a specialist for care.