Tooth Extractions – DeLand, FL
Say Goodbye to Trouble Teeth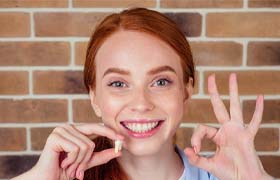 Extractions are never Dr. Cowell's first choice, but sometimes they are necessary in order to maintain the health of the rest of your mouth. Keeping all of your natural teeth isn't always a good idea, as teeth that are severely decayed, broken, or infected can lead to much bigger problems. To learn more about how you can say goodbye to trouble teeth before further issues occur, contact our office . This way, we can work to alleviate your pain, restore your bite, and improve your dental health!
Reasons Why Tooth Extractions Are Necessary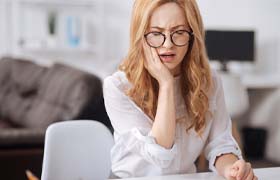 We always do everything we can to help patients keep their natural teeth, but sometimes it just isn't a viable option. Here are some of the situations where a tooth extraction may help to eliminate oral health issues and benefit the well-being of your smile:
When there's severe, unrepairable damage to the tooth.
To allow for a patient to undergo orthodontic treatment.
To ensure long term success of a restoration, like a partial or full denture.
If a child's baby tooth isn't falling out on its own.
When a tooth is impacted and isn't erupting properly.
By extracting problem teeth, future infections and other issues are significantly less likely to occur.
The Process of Removing a Tooth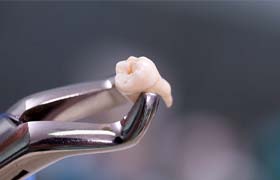 Teeth are generally removed by either pulling or surgical extraction. Teeth are only "pulled" when they have fully emerged from the gumline. In this case, we numb the area around your tooth and use a clasping tool to shift the tooth around until it breaks away from the gumline. If pulling isn't an option, the tooth will need to be surgically removed. For this procedure, a small incision is made in the gums to allow us the ability to reach enough of your tooth to remove it.
To decide which extraction method is right for you, if you need one at all, see us for a consultation. This way, we can thoroughly evaluate your situation. During this process, we can also talk about tooth replacement options to prevent further oral health problems that could occur thanks to tooth loss.
Tooth Extraction Aftercare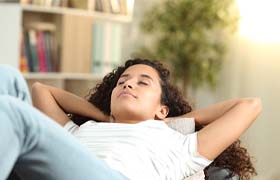 Before you head home from the practice after your extraction, we'll provide you with a specific aftercare plan to help you stay comfortable an avoid any complications. Everyone is different, but here are some instructions that are generally recommended for optimal recovery.
Take recommended over-the-counter and prescribed medications as directed.
Rinse with saltwater 24 hours after your procedure
Don't use a straw when drinking.
Avoid using tobacco products until your mouth has completely healed.
Sleep with your head elevated.
Get plenty of rest for optimal healing.
Apply a cold compress or ice pack to reduce swelling.
Stay away from hard, sticky, and crunchy foods.