June 3, 2020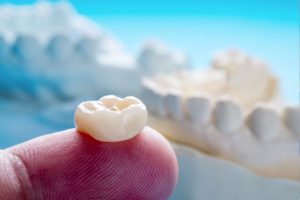 Dental crowns are one of the most common forms of dental restoration out there. They are very popular, look natural, and have a high success rate. However, they don't last forever and over time, crowns can become loose and even fall out. Fortunately, this is usually a quick fix for your dentist. If you have a loose dental crown, continue reading to learn why it occurred and what you should do.
What Can I Do If My Dental Crown is Loose?
If you notice that your dental crown is loose, you need to see your dentist as soon as possible to have it repaired. Having a loose or missing crown can lead to additional bacteria growth, infection, sensitivity, or other serious oral health issues. Until you are able to see your dentist, take these steps:
Grip it firmly between two fingers and gently try to remove it on its own. You don't want to accidently ingest it.
If you have removed your crown or it's fallen out on its own, inspect the inside to make sure that part of your natural tooth hasn't been dislodged as well. This makes it much more difficult to reattach.
Brush the crown gently with a toothbrush.
Use a toothpick to remove any debris or cement.
Try to set the crown back in your mouth if there are no obstructions.
If the fit is snug, you can keep it there temporarily until you see your dentist. Just be sure to use the other side of your mouth for chewing.
Do not use any adhesives or glues to try to reattach your crown. They could do a lot more harm than good and many of them are toxic to the human body. There are over the counter oral adhesives, but they only provide a short-term solution and do not work very well.
Why Can Dental Crowns Become Loose Over Time?
Even though dental crowns are used often and highly successful, there are a variety of reasons that it may become loose. Some of them include:
Tooth decay: Usually crowns are made of materials, like porcelain, that cannot decay like a natural tooth. However, this does not apply to the tooth underneath. Often times, the decay starts near the gumline where the tooth and crown meet. This can lead to the loosening of the crown.
Weakened dental cement: Over time, dental cement can weaken and wear off. This can cause the crown to become loose. This is an easy fix that can be done by your dentist.
Too many sticky foods: If you're constantly eating chewy or sticky foods, the crown can eventually come loose or even fall out. This is definitely something that you should avoid if you have dental crowns.
The crown is broken: Even though crowns are very durable, they are still able to become damaged. If you chew on hard items or grind your teeth, they are more likely to break or become loose.
If you have a loose crown, call your dentist right away so you can have it reattached. By following these steps and keeping up good oral hygiene, your smile will be as good as new in no time!
About the Author
Dr. Christopher Cowell is a family, restorative, and cosmetic dentist located in DeLand, FL. He graduated from the University of Florida College of Dentistry and has been practicing for over 23 years. He maintains active memberships in professional organizations, such as the American Dental Association, the Florida Dental Association, and the International College of Dentists. Dr. Cowell provides dental crowns as one of his many services. For more information or to schedule an appointment, visit his website or call (386) 734-8585.
Comments Off

on My Dental Crown is Loose – What Do I Do?
No Comments
No comments yet.
RSS feed for comments on this post.
Sorry, the comment form is closed at this time.