July 7, 2020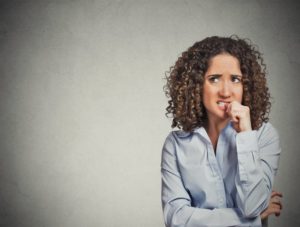 Unlike other tooth replacement options that need to be replaced after a few years of use, dental implants can easily last for several decades or more! However, their lifespan depends heavily on how well they're taken care of. Even though dental implants are incredibly strong and durable, there are a few ways they can be damaged or dislodged. Make sure to break these six bad habits in order to keep your newly rebuilt smile happy, healthy, and complete for a lifetime!
1.) Eating Too Much Sugar
Even though your dental implant isn't susceptible to cavities like natural teeth, it's important that you don't over-indulge on unhealthy foods. Sugary snacks fuel oral bacteria and encourages the development of gum disease, which can lead to tooth loss and dental implant failure. So don't go overboard on the sweet stuff!
2.) Not Flossing
Your dental implant is securely fused with your jawbone underneath your gumline, so you don't have to worry about popping it out of place when you floss around it. Remember, cleaning between your teeth and dental implant plays a key role in keeping the surrounding supportive tissues healthy.
3.) Grinding or Clenching Your Teeth
Bruxism is a condition that causes you to grind or clench your teeth in your sleep. This extra pressure and abrasion can lead to a host of issues, including damaged or loosened dental implants. If you think you have bruxism, talk to your dentist about getting a custom mouthguard to keep your smile safe.
4.) Chewing on Ice Cubes or Your Fingernails
If you bite on pen caps, ice, or your fingernails when you're bored or nervous, you could end up damaging your dental implant or your natural teeth. What's more, these hard objects could introduce new bacteria into your mouth and cause infections, which can loosen your dental implant. If you feel the need to chew on something, try a piece of sugarless gum instead!
5.) Using Your Teeth as Tools
It can sometimes feel convenient to use your teeth to open bottles, tear packaging, cut thread, crack nuts, or as some other useful tool. However, the harsh pressure that comes with these actions can wear down your dental implant and damage the bones that help hold it in place. Always keep the proper tools somewhere easy to reach so you're not tempted to use your teeth and put your smile at risk.
6.) Using Tobacco Products
Tobacco slows down your healing process, hinders how well your jawbone binds to your dental implant, and puts you at a dramatically higher risk of gum disease. In fact, studies show that those who smoke tobacco are at least two or three times more likely to lose their dental implants than those who don't have this unhealthy habit.
After rebuilding your smile with a dental implant, make sure to protect your investment! Break these six bad habits to keep your pearly whites beautiful and intact.
About the Author
Dr. Christopher Cowell has been caring for the smiles of DeLand, FL and the surrounding communities for well over 20 years. He is dedicated to providing the most comfortable, modern, and effective dental care possible, which is why he maintains active memberships in several prestigious organizations such as the American Dental Association and the International College of Dentists. With the help of trusted local specialists, he is proud to offer dental implants for patients who are missing any number of teeth. If you have questions about getting dental implants or how to care for them, don't hesitate to contact him via his website or at (386) 734-8585.
Comments Off

on 6 Habits You Need to Break If You Have Dental Implants
No Comments
No comments yet.
RSS feed for comments on this post.
Sorry, the comment form is closed at this time.