How Dental Implants Work – DeLand, FL
Your Journey Towards Permanently Replacing Missing Teeth
Before you begin your journey towards permanently replacing missing teeth with a dental implant, we'll walk you through the process step-by-step. During your initial consultation, we'll plan out your entire treatment, including the timeline and pricing, to help you fully prepare for this multistep process. While every patient's tooth replacement plan will be unique to their specific needs and goals, you can find some of the basics of how dental implants work in DeLand below. When you're ready to start your journey towards a complete, confident smile, give us a call today to schedule your first appointment!
Initial Dental Implant Consultation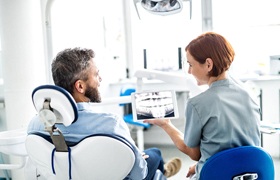 If you're interested in dental implants in DeLand, your first step is to come see Dr. Cowell for a consultation. He'll take the time to have a discussion with you about your tooth replacement goals, review your medical history, and inspect your oral health to see if you're a good candidate for dental implants. Issues like tooth decay and gum disease can threaten the success of dental implants, so we'll work with you to make a plan to address these problems if needed.
Dental Implant Surgery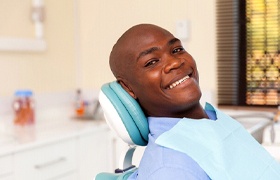 Once your oral health is on track and you're ready to start your treatment, your information will be sent to a highly skilled implant dentist in DeLand for the surgery. During your procedure, one or more small titanium implant posts will be placed into your jawbone to mimic the roots of the missing teeth. The post is then covered with a protective cap and the healing process will begin.
Dental Implant Osseointegration & Abutment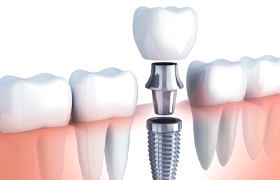 It will take several months for your mouth to fully heal and be ready for the next step of your treatment. During this time, the posts in your jaw undergo a transition called osseointegration where they fuse with the surrounding bone tissue to form a solid foundation for your dental implant. After your mouth has healed enough, a small connector piece called an abutment will be attached to the top of the post. This step can take anywhere from four to six months to complete. This may seem like a long time, but the incredible stability, functionality, and comfort are well worth the wait!
Placement of Dental Implant Restorations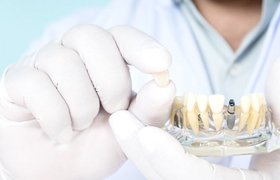 Once we receive your final crown, bridge, or denture, you'll come back to our office for the final step. We'll use the abutment piece to firmly anchor your new restoration onto your dental implant post. Finally, we'll check to ensure your bite feels comfortable and make any necessary minor adjustments. Then, you'll be ready to start enjoying your brand-new smile!
Dental implants may require a more involved process than other options like dentures or dental bridges, but they are a worthwhile investment in your long-term health, confidence, and quality of life. If you're ready to see if dental implants are right for you, give us a call today!