Zoom! Teeth Whitening – DeLand, FL
Trusted, Fast, & Effective Teeth Whitening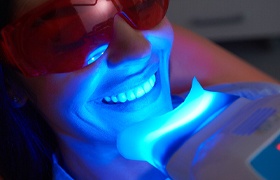 The first trait that people often notice about you is your smile. That can be a good thing if you feel confident in your grin, but many people have stained or discolored teeth that make them embarrassed to smile. Before patients visit us for Zoom! Teeth Whitening in DeLand, FL, they usually have attempted store-bought whitening kits with no success. These aren't always safe to use on your teeth and typically don't provide you with lasting results. That's why Dr. Christopher Cowell, your cosmetic dentist in DeLand, offers safe and highly effective take-home or in-office teeth whitening treatment. For questions or to schedule a consultation and learn more, you can contact our dental office.
Types of Teeth Whitening Treatments We Offer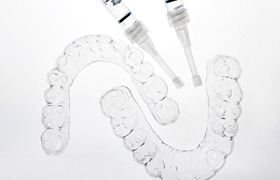 Our team understands that every patient is different, which is why we offer in-office and take-home treatment. That way, you can choose the option that best fits your lifestyle and needs. Here's how each of them works:
Take-Home Zoom! Teeth Whitening Kit: Depending on the range of drastic results you're looking to achieve, we offer different strengths of Zoom! Teeth Whitening take-home kits. They all include full-strength teeth whitening gel and trays that you can put on your teeth for varying times throughout the day, depending on your schedule. Within about two weeks, you should be able to achieve noticeable and long-lasting results.
In-Office Zoom! Teeth Whitening: For patients who are looking for a more accelerated treatment plan, we also offer in-office teeth whitening. This takes place over the course of about an hour, making it convenient for patients with busier schedules and little downtime. We use LED light-accelerated whitening gel to deliver results that are clinically proven to brighten teeth by up to eight shades!
Benefits of Professional Teeth Whitening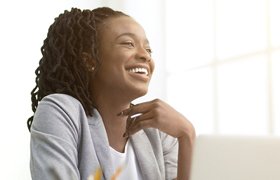 Unlike other teeth whitening treatments that may cause dental sensitivity, Zoom! Teeth Whitening in DeLand contains ingredients that strengthen your enamel and boost your oral health, such as amorphous calcium phosphate, potassium nitrite, and fluoride. That way, instead of simply brightening your smile, you can also feel great about the health of your pearly whites.
If you'd like to learn more about our Zoom! Teeth Whitening treatments, be sure to contact our dental office to schedule a consultation today. We can walk you through all of your options and help you choose the one that's best for your lifestyle and needs.