February 19, 2020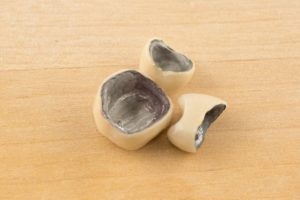 Today, dentists can restore the function of your smile alongside the appearance by offering using realistic-looking materials to craft restorations. If you have a dental crown in DeLand and notice a small black line forming around it, it can severely distract from its realistic appearance and bring unwanted attention to your damaged tooth. Unfortunately, this commonly occurs when a dental crown is made with certain materials. Read on to learn more about what's causing the black line around your dental crown and how you can get rid of it.
Materials Used to Make Dental Crowns
Many patients aren't aware that dental crowns can be made from a variety of materials. Depending on your needs, budget, and unique situation, your dentist in DeLand can suggest one that will best fit your needs. Here are some common materials that are used when crafting these restorations:
Metal Alloys: While crowns made of metal alloys are known to be incredibly strong, they stick out like a sore thumb next to natural teeth.
Porcelain Fused With Metal: These popular crowns are made from a metal structure with a natural-looking exterior.
All Ceramic: Customized to match the specific shade and appearance of your natural teeth, these crowns don't contain any metal.
The Problem With Using Metal For Restorations
Crowns that contain any type of metal, even ones fused with porcelain, can cause a variety of aesthetic and health issues down the road, which is why many people opt for non-metal crowns instead. Some of these problems include:
Dental sensitivity because metal is a conductor of heat.
Not made from a biocompatible material.
They can interfere with medical procedures such as MRIs.
They're known to have a higher risk of decay.
They can cause cosmetic imperfections such as thin, black lines, and tooth discoloration.
If you're unsatisfied with your metal crown and would like to replace it with a durable, biocompatible, and more natural-looking solution, speak with your dentist in DeLand about non-metal restorations. Typically, these are crafted from porcelain, ceramic, or zirconia, which are all strong materials that are built to last.
Fixing The Black Line Around Your Crown
The best way to get rid of the black line is to replace your old dental crown for one without metal. When you choose a crown made entirely of dental porcelain, you'll be able to enjoy a variety of unique benefits, including:
The material is non-porous, which means the restoration itself is stain-resistant.
Porcelain won't cause unsightly stains on your tooth.
They improve your ability to complete daily tasks such as eating.
You'll be able to avoid future oral health issues such as dental sensitivity.
After reading all of the information above, do you feel as though a non-metal dental crown will fit all of your unique needs? If your answer is yes, the next step for you to take is to schedule a consultation with your dentist to discuss your options.
About the Author
Dr. Christopher Cowell has been practicing dentistry for over 23 years, allowing him to perfect the art of crafting natural-looking and long-lasting restorations such as dental crowns and bridges. After he repairs the function and appearance of a patient's smiles, his favorite thing is to see their confidence skyrocket. He is an active member of several professional organizations, including the American Dental Association and the International College of Dentists, to name a few. For questions or to schedule a consultation for a non-metal restoration, visit his website or call 386-734-8585.
Comments Off

on What Could Cause a Black Line Around a Crown?
No Comments
No comments yet.
RSS feed for comments on this post.
Sorry, the comment form is closed at this time.