August 10, 2020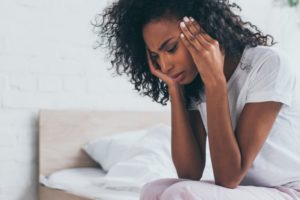 Do you get migraines? These intense headaches often come with symptoms such as light and sound sensitivity, nausea, and throbbing pain that can be severe enough to interfere with daily activities. Although this is a very common health disorder, researchers still don't know much about them—including what causes them. However, recent research indicates that chronic migraines may be connected to another condition called temporomandibular disorder (TMD or TMJ disorder). Read on to learn more about how that pain in your head may be caused by soreness in your jaw, and what your dentist can do to help alleviate both!
What Is TMJ Disorder?
Your temporomandibular joints connect your jaw to your skull on either side of your head. Issues with this joint and the muscles in your face that control it are called temporomandibular disorders (TMD or TMJ disorder). While experts don't know for sure what causes TMJ disorder, it's most often associated with grinding or clenching your teeth, stress, arthritis, or an uneven bite. The extra stress on your jaw joint can cause pain and stiffness, as well as:
Popping or clicking when moving your jaw
Soreness in the neck and shoulders
Frequent earaches or headaches
How Are TMJ Disorder & Migraines Connected?
So how is soreness in your jaw connected to migraines? When you clench and grind your teeth or chew with a misaligned bite, the extra pressure causes tension in the muscles around your jaw. This stress can spread to the surrounding tissues and throughout the head to cause pain in other areas. If the pressure is severe enough, it may trigger a migraine. Recent studies have discovered that patients with chronic migraines (more than 15 a month) are three times as likely to report severe symptoms of TMJ disorder.
How Can My DeLand Dentist Help?
While pain medication can help alleviate pain in your jaw or head, it won't address the underlying issue. Thankfully, your DeLand dentist may be able to help! After inspecting your mouth and jaw, they may recommend oral appliance therapy. This method simply involves wearing a small, custom-made mouthguard to bed every night. It comfortably holds your jaw in a position that realigns it and encourages the muscles to relax and heal. As the oral appliance retrains the jaw to rest in a healthier position, it can even be used as a nightguard to protect your smile from nightly teeth grinding and the headaches it can cause. Over time, the stress in your jaw muscles should ease and your symptoms should fade.
Migraines can keep you from fully enjoying your life, so don't wait to seek relief. With a quick exam and some simple scans of your jaw, your DeLand dentist can help you determine if a custom oral appliance may be able to help treat your TMJ disorder and your migraines.
About the Author
Dr. Christopher Cowell of DeLand, FL has over two decades of experience improving his patients' quality of life by enhancing their smiles. He is committed to offering the best, most effective, and most comfortable treatments, which is why he maintains several active memberships in organizations like the American Dental Association and the Florida Dental Association. Additionally, he is proud to offer custom-made oral appliances for his patients who suffer from TMJ disorder and the symptoms that come with it. To learn more, he can be contacted via his website or at (386) 734-8585.
Comments Off

on Is TMJ Disorder Causing Your Migraines?
No Comments
No comments yet.
RSS feed for comments on this post.
Sorry, the comment form is closed at this time.