September 9, 2020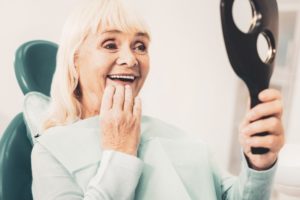 Dentures in DeLand are a quick and affordable way to replace missing teeth and regain a full set of beautiful pearly whites. However, filling those gaps in your smile is important for more than just cosmetic reasons. Missing teeth lead to jawbone loss, which can cause changes in your facial structure and give you a sunken, aged appearance. Read on to find out how to restore your confident smile while preventing bone loss.
Why Do Missing Teeth Lead to Jawbone Loss?
Did you know that the roots of your teeth stimulate blood flow in your jawbone when you chew and talk? Unfortunately, as soon as a tooth goes missing, the area of jawbone it used to support stops receiving the circulation it needs to stay healthy. Eventually, the lack of stimulation will cause the jawbone to deteriorate and shrink away. Not only does this change the shape of your jaw, but it moves the facial bones that relied on the strength of your jawbone as well.
Do Dentures Prevent Bone Loss?
Dentures are a traditional choice for patients who are missing many or all of their natural teeth. These dental devices are precisely crafted from high quality materials for long-lasting, lifelike results. Thanks to their close and custom fit, dentures are designed to stay firmly in place with the help of natural suction.
While dentures can quickly and easily restore the appearance of your missing teeth, they don't replace the missing roots underneath the gumline. As a result, the jawbone continues to deteriorate. In fact, some research suggests that wearing dentures can even increase the rate of bone reabsorption.
How to Restore Your Smile & Maintain your Jawbone
Thanks to modern dental technology and techniques, there is a way to restore your smile as well as preserve your jawbone. Dental implants in DeLand are designed to replace missing teeth both above and below the gumline. To achieve this, small titanium posts are placed into the jawbone to provide unmatched stability and durability. Additionally, these posts continue to stimulate blood flow in the jawbone, preventing deterioration and changes in facial structure. Dental implants can replace one, several, or even a full arch of missing teeth with artificial roots that support better bone health.
Preventing bone loss is just one of several important advantages dental implants have over traditional dentures, such as:
No slippage: Your dental implants are held securely in place, so they'll never slip or feel as if they're about to fall out.
Maximum functionality: Dental implants can regain nearly all of your natural biting force, so you're able to enjoy all your favorite foods without worry!
Permanent solution: While dentures need to be replaced every 5-10 years, your dental implants can easily last a lifetime with the proper care.
With dental implants, you can reclaim your complete smile while protecting your oral health! Talk to your DeLand dentist today to see if this modern tooth replacement option is right for you.
About the Author
Dr. Christopher J. Cowell is proud to offer the smiles of DeLand, FL and the surrounding communities a variety of tooth replacement options. For the past two decades, he has helped rebuild countless smiles with dentures, dental bridges, and dental implants. For dental implants, he partners with local specialists to ensure their placement goes as smoothly as possible and your jawbone gets the support it needs. If you'd learn more about replacing your dentures with dental implants, don't hesitate to contact him via his website or at (386) 734-8585.
Comments Off

on Do Dentures Prevent Jawbone Loss?
No Comments
No comments yet.
RSS feed for comments on this post.
Sorry, the comment form is closed at this time.