October 13, 2020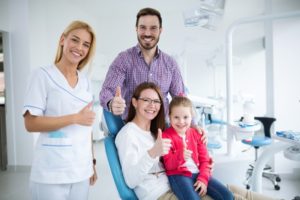 When all your family members visit separate dentists for different types of dental care, keeping their smiles healthy can feel overwhelming. Between juggling appointments, driving all over town, and remembering who needs which treatments, it's all too easy for your loved ones' oral health to get off track. If this sounds familiar, it's time to switch to a DeLand family dentist! Here are five great ways taking your family to the same experienced and friendly dental professional can keep their smiles happy and healthy.
1.) Convenient Scheduling & Appointments
Instead of spending extra time and money visiting numerous different dental offices, consolidate your family's dental appointments. A family dentist provides a wide range of services, so you can schedule visits for all your loved ones with a single phone call. In fact, you can even coordinate your family's dental checkups for the same day to maximize convenience.
2.) Treatments for Smiles of All Ages
Is it time for your child's first checkup? Does your spouse need TMJ therapy? Are your parents looking for tooth replacement options? Smiles need unique types of care at every stage of life, and a family dentist has the training, experience, and services to keep your loved ones' smiles healthy for life.
3.) Set Your Child Up for Years of Healthy Smiles
Seeing the same dentist as your child gives you an excellent opportunity to lead by example. Your little one has a chance to see you sitting in the dentist's chair and prioritizing your oral health, which will encourage them to take care of their own smile. What's more, they'll be able to visit the same dentist as they grow, which will help them form a trusting relationship with them and prevent dental anxiety.
4.) Identify Easily Overlooked Hereditary Issues
When the same dentist is caring for and monitoring all your loved ones' oral health, they have a unique opportunity to detect patterns and similarities that may otherwise go unnoticed. Your risk of certain conditions such as tooth decay, gum disease, and tooth sensitivity can be influenced by your genetics. A family dentist may be able to spot these connections and help provide you with more personalized preventive care.
5.) Know Where to Turn in a Dental Emergency
Since dental emergencies are typically sudden, alarming, and somewhat overwhelming, it's essential that you and your family know where to turn before one strikes. Whether you wake up with a horrible toothache one morning or your teenager knocks out a tooth while playing sports, a family dentist is trained to quickly relieve pain and repair damaged smiles. In addition, visiting a familiar family dentist can go a long way in taking some stress out of these scary situations.
Maintaining your family's oral health shouldn't be complicated. Switch to a family dentist today to keep your loved ones' smiles healthy, intact, and looking their best for life!
About the Author
Dr. Christopher J. Cowell, DMD has been serving the families of DeLand and the surrounding communities for over two decades now. He and his friendly team go above and beyond to make every visit as pleasant as possible with on-time appointments, transparent treatment planning, and a relaxing, family-friendly atmosphere. From children to grandparents, he offers a comprehensive menu of services that are aimed to keep smiles healthy at every stage of life. To set up your family's next appointments, feel free to contact him via his website or at (386) 734-8585.
Comments Off

on 5 Benefits of Choosing a Family Dentist
No Comments
No comments yet.
RSS feed for comments on this post.
Sorry, the comment form is closed at this time.