November 14, 2020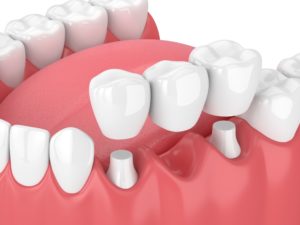 If you're missing one or more teeth in a row, a fixed dental bridge is a convenient solution to close the gap. New innovations in dentistry make them look and feel more natural than ever. They are made of high-quality material to last for a decade or longer with the right aftercare. Unfortunately, your bridge won't last forever. Here are 4 of the most common causes of dental bridge failure and what you can do to protect your investment.
1. Poor Oral Hygiene
The most common reason dental bridges fail is poor oral hygiene, like not brushing twice a day or flossing every night. Your bridge is supported by abutment teeth that have dental crowns bonded over them. Although your bridge isn't subject to decay, your crowned teeth can be compromised by harmful bacteria. It's best to clean around your crowns and your bridge well when brushing and flossing to keep your teeth strong.
2. Inadequate Support
If there is uneven distribution of weight on your abutment teeth, it can cause complications. Your underlying teeth can suffer trauma over time, causing them to weaken. As a result, your bridge can fail. If you'd rather not rely on healthy teeth to support your bridge, your dentist can use a dental implant at either end to anchor it to your jawbone. You don't need to permanently alter healthy teeth or rely on them to hold your bridge in place.
3. Poor Choice of Material
Bridges can be made from several materials, including plastic. This gives you more options to find affordable options; however, the saying, "you get what you pay for" is true. Discounted materials can weaken quickly. Although they may have been affordable upfront, they don't have the same durability as bridges made of other materials, like porcelain. Your dentist will help you choose the most cost-effective solution to ensure your new smile lasts for many years.
4. Not Enough Bone Support
When you lose a tooth, you'll also lose density in your jawbone because it isn't being stimulated by the root. A traditional fixed bridge only replaces the portion of a tooth visible above the gum line. As a result, you'll continue to lose bone, so your remaining natural teeth won't have the support they need. Eventually, your bridge can fail. You can stop bone loss by using a dental implant to secure your bridge. An implant replaces the root of your tooth, stimulating new bone growth to keep your jaw strong.
Protect Your Investment
You can ensure your bridge lasts for a decade or longer with the right care at home. Don't forget to visit your dentist at least twice a year for a cleaning and checkup.
About Dr. Christopher Cowell
Dr. Cowell has been practicing dentistry for over 20 years. He earned his dental degree at the University of Florida College of Dentistry. He's completed additional training in many areas of specialty, like treating tooth loss. If you need a new bridge, contact our office today to schedule your consultation.
Comments Off

on What Causes Dental Bridge Failure?
No Comments
No comments yet.
RSS feed for comments on this post.
Sorry, the comment form is closed at this time.