March 3, 2022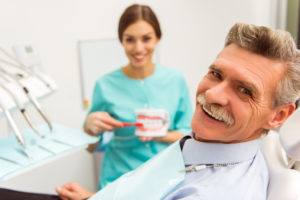 Missing teeth can make it harder to maintain the healthy, balanced diet your body needs. In addition, you may feel embarrassed to talk or smile around your coworkers, friends, or even family if you are missing most or all of your teeth. Fortunately, modern dentures can help! Affordable and convenient, dentures can restore the appearance and function of your smile. But how long will you have to wait to get them? From start to finish, here's a breakdown of the process of getting dentures.

Extracting Teeth
If you don't have any remaining teeth, you can go ahead and skip to the next step below. However, many patients interested in dentures still have a few teeth left. Any existing teeth will need to be removed before a dentist can begin making dentures. After tooth removal, it usually takes a few months for the extraction site to heal.  
Making Impressions
Once you are ready to begin the dentures process, your dentist will make impressions of the ridges in your mouth. They will also take measurements of your bite pattern and may even make a wax model of prosthetic teeth as a test. The impressions of your mouth will be sent to a dental lab, where specialists will carefully craft a custom set of dentures. This step of the process can take anywhere from several weeks to a few months.
Placing the Dentures
Your dentist will call you back to the office once your dentures arrive so they can be placed in your mouth. Some adjustments will likely be made during this appointment to make sure your dentures fit as comfortably as possible on your gums. This visit should last 30 to 60 minutes and when it's over you'll be able to walk out with your new smile.
Adjustment Appointments
As you go about your daily routine with your new replacement teeth, you may feel a bit uncomfortable at first. While your mouth will adjust over time, your dentures may also require additional adjustments. This is completely normal and to be expected. An adjustment appointment usually lasts only 15 to 30 minutes and should make your dentures more comfortable each time. Don't be worried if your dentures require several adjustments in the initial weeks or months after you start wearing them.
The Benefits of Dentures
While every patient's journey to restore their smile is slightly different, the many benefits of dentures is always the same:
Custom crafted to look as natural and attractive as possible.
Restore the ability to speak, laugh and eat more of your favorite foods without worry.
Easy to remove for thorough cleaning.
An affordable and effective solution to replace missing teeth.
If you are ready to reclaim a full smile, take the first step on the road to renewed confidence by asking your dentist if dentures are right for you.
About the Author
Dr. Christopher Cowell has been helping DeLand residents replace missing teeth for over 20 years. The proud University of Florida College of Dentistry graduate offers crowns, bridges, dentures, and dental implants at his conveniently located private practice. To learn more about the process of getting dentures, visit Dr. Cowell's website or call 386-734-8585.
Comments Off

on How Long Does It Take to Get Dentures?
No Comments
No comments yet.
RSS feed for comments on this post.
Sorry, the comment form is closed at this time.