April 3, 2022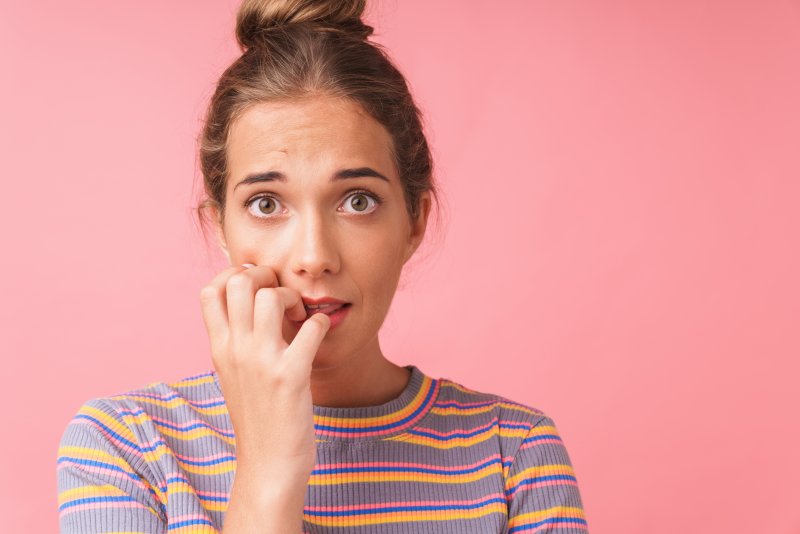 Dental implants are incredible—these tiny titanium posts can easily replace your teeth and give you a dazzling, beautiful new smile! However, taking care of them is crucial if you want them to last a long time. There are certain habits you should absolutely avoid if you want to preserve the integrity of your implants; here's what you need to know.
Biting Your Nails
This is something that many people do when they're either stressed or bored—but this bad habit can quickly lead to chipped teeth or implants! Additionally, your nails are vehicles for bacteria to enter your mouth and cause infection; when this happens, your implants can become loose. Sugarless chewing gum is a fantastic and healthy alternative to biting your nails; plus, it tastes better.
Using Your Teeth as Tools
Sometimes it's tempting to use your teeth to unscrew a bottlecap, crack open a nut, or tear plastic packaging, but this sudden harsh pressure can not only damage your teeth or dental implants, but also hurt your jawbone! Rather than using your mouth, keep a toolbox or drawer filled with everything you need.
Smoking Or Chewing Tobacco
Tobacco is bad for you in general, but it's especially damaging to your mouth and dental implants. It can slow down your body's healing process as well as increase the risk of oral infections and even oral cancer. Studies show that smokers are three times more likely to lose their dental implants than non-smokers; break the bad habit now if you need to!
Eating Too Much Sugar
Sugary snacks are notorious for causing tooth decay and gum disease—and bacterial infections in the gums are one of the leading causes of tooth loss. This can lead to jawbone damage as well as the destruction of the connective tissues that hold your natural teeth and implants in place. Consider cutting back on the sweets if you want to preserve both your teeth and implants!
Skipping Dental Appointments
It is recommended that you visit the dentist at least twice a year; and if you have implants, it might be wise to have more frequent checkups. These visits will allow your dentist to inspect your implants for potential problems, as well as assist you in maintaining their durability.
Your dental implants are an important addition to your mouth; it's in your best interest to take care of them so that they'll last. Avoiding these five bad habits will go a long way towards prolonging their lifespan.
About the Author
Dr. Christopher Cowell has been practicing dentistry in DeLand for over 20 years! His practice proudly offers a wide variety of preventive, cosmetic, and restorative dentistry options including dental implants. Dr. Cowell received his DMD from the University of Florida College of Dentistry and is a member of many professional organizations including the American Dental Association, the Florida Dental Association, and the American College of Dentists. If you're curious about dental implants or would like to schedule an appointment with Dr. Cowell, you can contact him through his website or by phone: (386) 734-8585.
Comments Off

on 5 Bad Habits to Avoid If You Have Dental Implants
No Comments
No comments yet.
RSS feed for comments on this post.
Sorry, the comment form is closed at this time.