December 12, 2022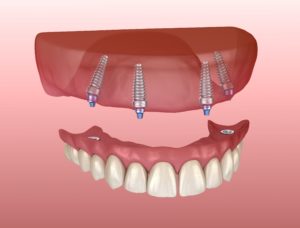 Dentures have been the go-to solution to treat tooth loss for generations because they are affordable and effective. Advancements over the years have made them look and feel more natural, but they still have their limitations. Adding dental implants to a denture can give you the next best thing to your real teeth. Although implant dentures cost more, they are worth every penny. Here are 4 ways adding dental implants can make a difference in your life.
1. Never Worry About Slipping or Irritation Again
Traditional dentures rest on top of the gums and are held in place with suction or an adhesive. Even the best-fitting dentures can slip, especially the older they get. An implant denture will never move from its position because titanium posts are surgically placed into the jawbone to mimic roots. Your bone will fuse to the posts, giving your denture unmatched support and stability. Implant dentures can restore up to 70% of your natural biting force to enjoy all your favorite foods with no anxiety about your teeth falling out.
2. Look Younger and Stop Bone Loss
A dental implant is the only method of replacing both the root and crown. As a result, dental implants are the only treatment that stops bone loss caused by missing teeth. The implants will stimulate new bone growth to keep your jawbone strong and healthy. Your facial tissues will have the support they need to prevent wrinkles and sagging skin.
3. Reduced Oral Health Expenses
Dental implants may cost more initially, but they can pay for themselves. With over a 95% success rate and a lifespan of 30 years or more, you will never have to budget for replacements. Dentures need regular maintenance and only last for 5 to 7 years. You'll have more money in your pocket because implant dentures can last for a lifetime.
4. Look and Feel Your Best
Only a trained dental professional will be able to tell that your new smile isn't natural because your denture is carefully crafted to look like your real teeth. You won't think twice before smiling or talking because you'll have more confidence in your appearance. With dental implants holding your dentures in place, you can laugh and speak freely with no worry about your teeth moving around in your mouth.
Invest in the Best Today
An implant denture can turn back the clock by rebuilding your smile and restoring your quality of life. If you're tired of your dentures slipping or messy adhesives, it's time to see if dental implants are right for you. Your dentist will create a personalized strategy to achieve your best smile using the most advanced solutions in dentistry.
About Dr. Christopher Cowell
Dr. Cowell earned his dental degree from the University of Florida College of Dentistry and has regularly continued his education in advanced services, like dental implants. He is a proud member of many professional organizations, including the American Dental Association and the Florida Dental Association. If you're ready to replace your missing teeth, contact our office today to request a consultation.
Comments Off

on 4 Reasons to Add Dental Implants to Dentures
No Comments
No comments yet.
RSS feed for comments on this post.
Sorry, the comment form is closed at this time.