February 6, 2023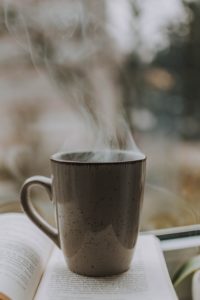 If you need a cup of coffee to jumpstart your day, you're not alone. According to the National Coffee Association, 54% of Americans over the age of 18 drink coffee daily. Not only can it give you a boost of energy, but it also has health benefits. The Annals of Internal Medicine found that daily coffee drinkers were 12% less likely to die from strokes, diabetes, cancer, and other diseases. Although it can support your health, it can be bad news for your oral health. Here's what you need to know about the effect coffee has on your pearly whites.
Coffee and Your Dental Health
Despite the health benefits of coffee, too much of a good thing can be damaging to your smile. Drinking one cup of coffee per day increases your risk of cavities, especially if you add cream or sugar.
Coffee feeds bacteria that create acid in the mouth that can cause enamel erosion. Although your enamel is the hardest substance in your body, it can't regenerate. Once you've lost it, it's gone for good, leaving the protective layer of your tooth weakened.
Coffee can also contribute to gum disease and bad breath because it dries out your mouth. A dry mouth is a perfect environment for oral bacteria growth. Its thick scent can also linger in your mouth, worsening halitosis.
Unfortunately, coffee can also cause tooth discoloration because it contains an ingredient called tannin. Polyphenol breaks down in water, but it can also stain your teeth. Dark beverages, like coffee, can make your teeth look brown or yellow. No amount of brushing will take away the stains.
Protecting Your Smile from Coffee
You don't have to give up your morning coffee to protect your smile; however, your dentist will recommend taking a few precautions:
Use a Straw: Drink your coffee with a straw to limit its contact with your teeth.
Don't Sip: Don't sip coffee throughout the day. Instead, drink it all at once to prevent frequently exposing your teeth to it.
Rinse Your Mouth: Rinse your mouth with water after you've finished. It will rinse away color pigments and sugars while keeping your mouth moist.
Wait to Brush: Coffee can leave your enamel temporarily weakened, so you don't want to brush your teeth right away. Wait at least 30 minutes before reaching for your toothbrush.
Chew Sugarless Gum: Chewing gum encourages saliva production to keep your mouth clean in between brushing and flossing.
Moderation: Try to limit yourself to 1 cup of coffee.
Don't forget to visit your dentist regularly for a cleaning and checkup. They'll keep your pearly whites healthy and looking their best.
About Dr. Christopher Cowell
Dr. Cowell earned his dental degree from the University of Florida College of Dentistry and has regularly continued his education in many specialties. He is a proud member of many professional organizations, including the American Dental Association and the Florida Dental Association. Request an appointment through our website or call (386) 204-3710.
Comments Off

on Can Coffee Harm Your Smile?
No Comments
No comments yet.
RSS feed for comments on this post.
Sorry, the comment form is closed at this time.