February 8, 2023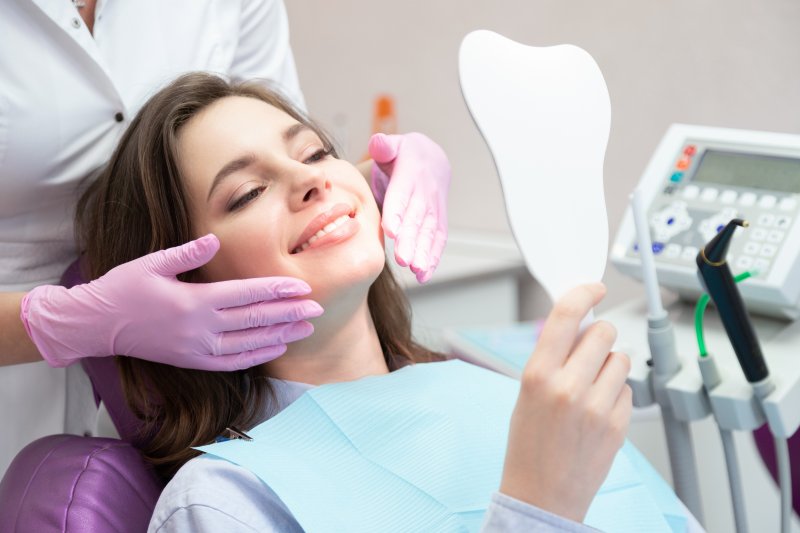 Don't like how your teeth look? These days, it's easier than ever to get the smile you've always wanted! Cosmetic dentistry can address multiple imperfections, including chips, stains, cracks, and gaps. However, you must have solid gum health before moving forward with these aesthetic dental treatments. According to the Centers for Disease Control and Prevention, it's estimated that at least 50% of adults have gum disease. Read on to learn why a healthy foundation is essential for a beautiful smile!
Why Are Healthy Gums Important?
The gums are the soft skin surrounding the bones of your mouth and teeth. This tissue seals around them to provide support while also protecting your teeth from bacteria. Poor oral hygiene is the biggest threat to your gum health as it can lead to a preventable infection. Without treatment, gum disease can destroy the supporting structure of your teeth, causing them to loosen and fall out. What's worse, advanced stages of gum disease can affect your overall health, increasing your risk of cardiovascular disease, respiratory infections, and Alzheimer's disease.
Since your oral health and general health are entwined, your dentist will need to make sure your gums are healthy before considering cosmetic dentistry. While these treatments can make your smile look better, they won't necessarily help improve your oral health. As a result, this may lead to a costly dental emergency down the road.
How Your Dentist Can Create a Healthy Foundation
During your consultation, your cosmetic dentist will examine your mouth to assess the health of your teeth and gums. If there are any signs of infection, you may need to undergo gum disease therapy. While every treatment plan varies from patient to patient, here's what your dentist will likely recommend:
Deep Cleaning
Also known as scaling and root planing, a deep cleaning is performed to address the earliest stages of gum disease. Using a special dental instrument, your dentist will remove tartar buildup from above and below the gum line. They'll use another tool to smooth the root surfaces of your teeth. This will discourage future buildup and allow your gums to seal to your teeth to protect the roots.
Laser Dentistry
Instead of a deep cleaning, some patients may benefit from laser dentistry. The laser is designed to target diseased tissue, before it begins killing the infection, sterilizing the area, and shrinking periodontal pockets. It's far less invasive than scaling and root planing while providing unmatched benefits.
About the Author
Dr. Christopher J. Cowell, DMD is a family and cosmetic dentist that has been practicing for well over two decades. He is passionate about building meaningful relationships with all patients, ensuring they feel as comfortable as possible for whatever procedure they need. If you think you may need gum disease therapy before pursuing cosmetic dentistry, don't hesitate to reach out. You can schedule an appointment via his website or call (386) 734-8585.
Comments Off

on Do You Need Gum Disease Therapy Before Cosmetic Dentistry?
No Comments
No comments yet.
RSS feed for comments on this post.
Sorry, the comment form is closed at this time.