March 2, 2023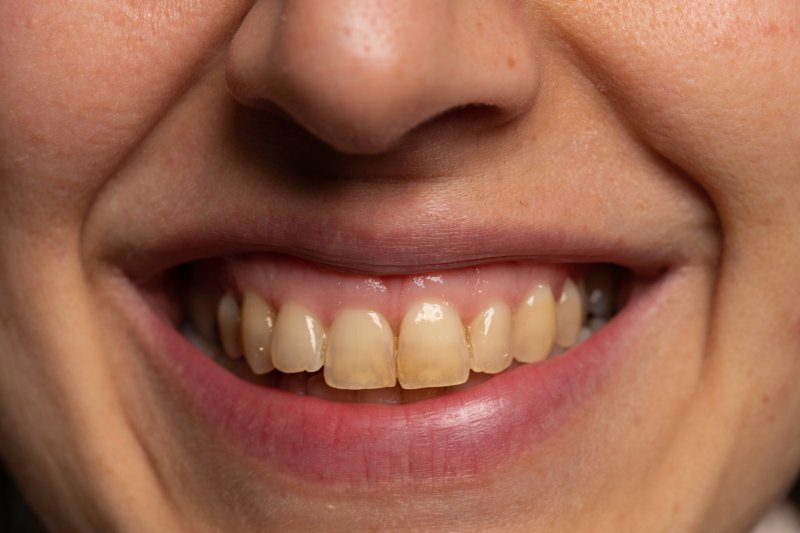 When people check their smiles in the mirror each morning, one of the biggest things that they think about is the color of their teeth. It's natural; there are quite a few reasons that you can start to see your teeth become a little more yellow than you'd like.
Teeth whitening can make a massive difference in the color of your smile, but so can understanding the risk factors that lead to yellow teeth in the first place. If you're curious, here are a few examples.
Age
First of all, it's worth noting that you may have yellow teeth for reasons you can do nothing about. Age is one of them. As you get older, your enamel will naturally start to get thinner, exposing some of the darker layers of the tooth underneath.
Diet
Of course, there are risks that you can do something about, and diet is a big one. Coffee, red wine, green tea, tomato sauce, soy sauce, and other dark acidic foods can all deposit pigments on your teeth that can discolor them over time.
Genetics
The color of some people's enamel is just naturally more yellow than others, for no reason other than genetics.
Smoking
You probably don't need this guide to tell you that smoking is bad for your oral health, but it's worth reiterating how disastrous it can be for the color of your teeth specifically. Smoking can turn your teeth yellow, or even gray, over time.
How to Deal with Yellow Teeth
If you're interested in whitening your smile, the first thing you can try is to cut out some of the risk factors you can control. You might try cutting back on some of the foods that can dye your teeth, or drinking your coffee with a straw so it spends less time in contact with your teeth.
For the risk factors you can't control you can always talk to your dentist about cosmetic dentistry. Teeth whitening involved layering a bleaching solution onto your teeth that can make your smile up to eight shades whiter in a single appointment! For more stubborn discoloration, you can also talk to your dentist about direct bonding and veneers that can cover them up.
About the Author
Dr. Christopher Cowell is a dentist who has been practicing for over 23 years, and he's built his practice on the belief that nothing matters more than a relationship of trust between dentist and patient. Dr. Cowell received his Doctor of Dental Surgery from the University of Florida College of Dentistry, and he currently maintains active membership in both the American Dental Association and the Florida Dental Association.
If you have any questions about the best way to handle yellow teeth, he can be reached at his website or by phone at (386) 734-8585.
Comments Off

on All the Most Common Causes of Yellow Teeth
No Comments
No comments yet.
RSS feed for comments on this post.
Sorry, the comment form is closed at this time.