May 4, 2023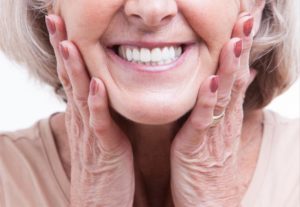 If you have lived with a gapped smile due to missing teeth, you are aware of how it impacts your life. Everyday functions like eating and speaking become more difficult, as well as feeling insecure about your tooth loss. Fortunately, dentures can give you back a fully functioning set of pearly whites, restoring your confidence and daily abilities. However, there will be a time of adjustment as you get used to your restoration, especially regarding communicating. Here are three helpful tips to help you speak with your new dentures.
#1: Repeat Pronunciations & Elongations
Once your dentures are placed and you are wearing them daily, your focus will be getting familiar with how they work and feel in your mouth. To help you adjust, you should begin to practice pronouncing words that are most common in your vocabulary. By continually repeating their sounds, you will be able to get used to your restoration and make it work for you. You can then move on to more difficult words and phrases, pronouncing them slowly while paying attention to your denture. Take note of more troublesome letters, like "F" and "S", so you can spend extra time on them.
#2: Read Aloud in Private
Once you have practiced making sounds, you can move on to speaking out loud to yourself in whole sentences. One way to gain confidence in your speaking ability with your dentures is to pick a favorite book or newspaper and read it aloud. By hearing your own voice, you can make the necessary adjustments. Before you know it, you will be able to speak fluently and with ease. As an added bonus of practice (and entertainment!), try singing in the shower!
#3: Chat with Family & Friends
After spending alone time pronouncing words and fluently speaking aloud, it will be time to venture out and engage with others with your new smile! The best people to practice with are those you feel safe and comfortable with—your friends and family. Communicating with those closest to you will help you because it gives others the chance to hear you and give you feedback. They can help you to identify sounds you are struggling with that you may not hear. By chatting with your loved ones, you will soon be comfortable enough with your restoration to take on the world!
Dentures give you back the confidence of a complete smile. With a little practice and concerted effort, you will soon be able to freely enjoy it as you also engage with others!
About the Author
Dr. Christopher Cowell keeps the smiles of DeLand whole, healthy, and beautiful. He attended the University of Florida College of Dentistry and is an active member of several dental associations. With a 5-star rating on Google, he offers a full range of services, including restorative care with full, partial, and implant dentures. To schedule an appointment, contact him through his website or call (386) 734-8585.
Comments Off

on 3 Helpful Tips for Speaking with Your New Dentures
No Comments
No comments yet.
RSS feed for comments on this post.
Sorry, the comment form is closed at this time.