June 13, 2023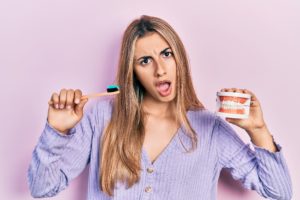 Dentures are one of the best solutions for those who experience the loss of one or more teeth. They are made of durable porcelain or resin that is customized to match the look and feel of your natural teeth. Moreover, with the right upkeep they can last anywhere from 10-15 years! Whether your condition requires partial, full, or implanted prosthetics, a key aspect of treatment is the ongoing care of your new, false teeth.
Once you have spent time, energy, and resources on being fitted for and installing dentures, it's imperative that you attend to them properly in order to make the most of your investment. One common question around appropriate procedures is whether or not they can be brushed while they are still in your mouth. If you have been wondering if it is safe or permissible, keep reading below!
Can It Be Done?
If you're wondering if it's acceptable to brush dentures while they are in your mouth, the short answer is yes, it is! If you aren't careful, though, you can cause damage. If you do decide to brush them while they're in place in your mouth, it's important to protect your faux teeth by:
Using a soft-bristled brush.
Use a non-abrasive toothpaste.
Using the right tools will help avoid scratching or hurting them, but keep in mind that they will only be partially scrubbed because not all sides are reachable while they are attached.
Keep Your Dentures Clean
Though you can brush your dentures in your mouth, it is not necessarily recommended because you cannot reach them from every angle. Feel free to brush them this way if you wish, but also be sure to remove them twice daily for a thorough cleansing, outlined below.
Gently brush all sides with a soft-bristled brush to clear away any food debris or plaque buildup.
Use specialized toothpaste. Many brands of commercial toothpaste are abrasive.
Rinse after brushing and leave them in a cup of fresh, cold water.
Continue to brush your remaining natural teeth with a regular toothpaste, or one recommended by your dentist.
Such comprehensive clearing helps stem the growth of harmful bacteria and ensures your whole mouth stays refreshed and healthy.
Regular Checkups
Your dentist has access to the tools and materials needed for the ongoing maintenance of your prosthetics, so be sure to schedule regular visits so they can be professionally cleaned. During your visit, you can also expect an examination to ensure that everything is fitting well in order to avoid potential future slippage or discomfort. This allows any issues like distortion or cracks that may have developed over time to be addressed appropriately.
In short, it won't hurt you to brush your dentures while they are still in your mouth as long as you are careful about it; but even so, removing them for a complete polishing ensures that you get the most benefit out of your new teeth for the long haul!
About the Author
Dr. Christopher Cowell has been meeting patients' dental care needs for more than 23 years and takes pride in offering comfortable, timely services that meet each person's specific needs. If you are considering dentures or would like a consultation, you are welcome to contact the office through the website or by calling (386) 734-8585.
Comments Off

on Can Dentures Be Brushed In Your Mouth?
No Comments
No comments yet.
RSS feed for comments on this post.
Sorry, the comment form is closed at this time.